10 Plus Size Influencers You Want to Follow
Plus size people really can have hard time in our society, because our society pushes this narrative that when you are plus size something is wrong with you and you are not good enough. I am here to tell you that this is a bullshit, nothing is wrong with you, but with our society. Even if you are confident in yourself I am sure it can get hard sometime, when you keep hearing you are not good enough you might just start to believe it. But I am here to tell you don't let them do this, know you are good enough and you are beautiful.
Nowadays is even harder in social media age
where everyone is getting something done to themselves to look so perfect so when you are plus size they really make you think that something is wrong with you especially when no one discloses that they either got something done or edited the photo. It can really be damaging to so many when all these influencers only show the perfect picture. But don't worry they are also some wonderful influencers that are worth your follow and are full transparent with you. Today I got for my beautiful plus size gals some amazing plus size influencers that are not afraid to show the real them and are helping many gals out there embrace their beautiful bodies:

Molly is one of most popular plus size influencers and I can see why. She  is such a beautiful girl that loves to dress up in very girly style and loves to wear floral. Even though we are thought floral doesn't look good on plus size people as always our society trying to make people feel bad about themselves and limiting their option. But Molly is fearless and is not afraid to show plus size gals that yes you can be plus size and wear floral and it can look amazing too.

Co-host of the Fat Girls Clubs podcast and the ThisIsJessicaTorres Youtube channel. Jessica really is great role model to have as a plus size girl. She is not afraid to embrace her body and show little bit more. Our society teaches plus size girl to not show too much skin it doesn't look good, but Jessica say f to that and she is not afraid to post bikini selfie. With that she motivates so many plus size girls to not be afraid and to embrace their bodies!

There are so many influencers out there who say they are body positive and want to help other women, but do they actually mean it? Well I can assure you Rae actually means it and is really good at it. She is a blogger and curve model. Her fashion is just so amazing and is great plus size influencers, she helps plus size girls embrace their bodies by giving them the best fashion advices.

Caralyn is so beautiful and she is a model and blogger and writes a lot about the struggles of being plus size. I feel in our society that is a real struggle that so many don't talk about. Our society is so focused on skinny people and therefore plus size people do have struggles finding clothing. Caralyn talks about struggles finding the wedding dress as plus size and I feel that can help so many of you. She has an amazing personality and someone who for sure will make you feel better!

Hayet is so great and her style is out of the world. She gives plus size girls great tips, she makes plus size fashion so easy. But not only does she gives great fashion advices she also talks about body confidence which is very important, beauty, travel and much more.

Lauren is one of my favourite plus size influencers. She mostly shares fashion tips for plus size girls and omg her style is just so amazing. Her outfits are quite different and they really stand out. By following her you will have an amazing style that stands out and will learn what to wear as plus size girl. I really love following her she truly represents plus size influencers.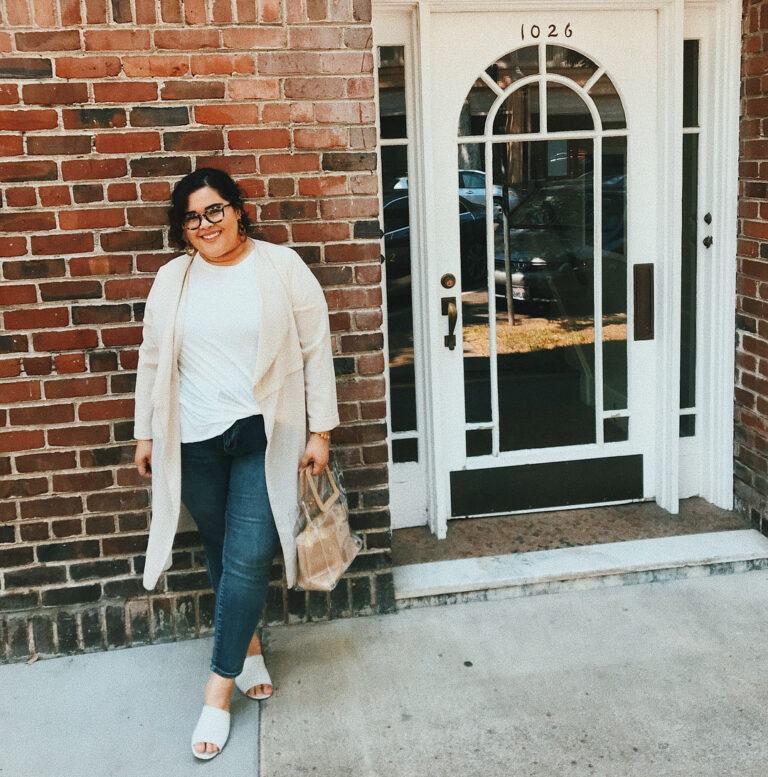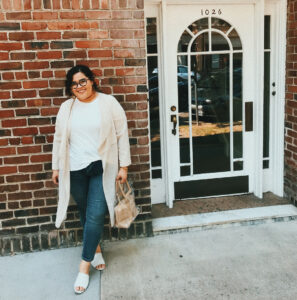 Mona is one of most amazing  plus size influencers that will help you feel good about your body. By embracing her body she motivates others to do the same. She as well gives great style tips and shows you how to style an outfit in effortless ways. She is really good at styling neutrals with denim and it looks so amazing on her.

Stefani describes herself as your virtual bff and it can't be more true. She brings it all the most entertaining stories where she shows the real her and her life. The way she is as how she shows herself makes me want to be her bff in real life

if you are looking for someone to boost your confidence by just watching them Chloe is the right person to do that. Her confidence in her body is what makes her stand out and also one of the reasons all of her outfits look so good. It is not all about what someone wear, but how they wear it and she definitely wear all of her outfits with confidence and that is my beautiful people the key. Being confident is all about having confident people around you and that also means on social media.

If someone's style and personality are both equally so amazing and are aligned with each other then you know we are talking about Alex. The way she dresses is just too good to be true, if you are not taking inspo from Alex you are doing your style disservice. Because she is the queen of plus size fashion. Even I have to admit that I sometimes check out her style when I don't feel inspired. Alex is bold and is not afraid to go against society and what society thought us about plus size fashion. She loves bright colours, prints and much more that makes every outfit stand out.
Embracing and loving your body
is of course an inside job, but for you to be able to do that you got to be around positive people. People who motivate you to love your body, who show your how to love your body and these ladies really know how to do that. Regardless of what society tells them they embrace their bodies, they wear whatever they like and are looking pretty stylish while doing it. We don't think too much about this, but it is so important to be around positive people.
Wonder how confident you really are? Take a quiz to find out
Click here for quiz
Read our latest articles: