6 Go-to Fall Outfits You Can Wear All Season Long
While "less is more" is generally the notion when it comes to just about everything in life, those of us who are partial to the fashion world can fall deep into a mentality that leans a little more toward "more is more." And when it comes to fall outfits, this couldn't be more true.
While more,
in fact, sometimes can be more, reeling it back to the more minimalist mentality when it comes to getting dressed can be beneficial for all of us. Taking a step back and realizing that most of the outfits on our inspiration boards consist of nothing but a few basics paired together in the right ways means that styling just got a whole lot easier.
With the glorious,
fleeting days of fall here and greeting us every day, we're determined to make the most of it each and every time we leave the house—but that doesn't mean we're trying hard. All it means is that we're strategically creating easy outfits that we know we can rely on. Ready for all the fall dressing inspiration you'll need? Look no further. Here are our Go-to Fall Outfits: 
1. A sweatshirt and plaid pants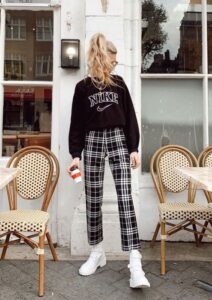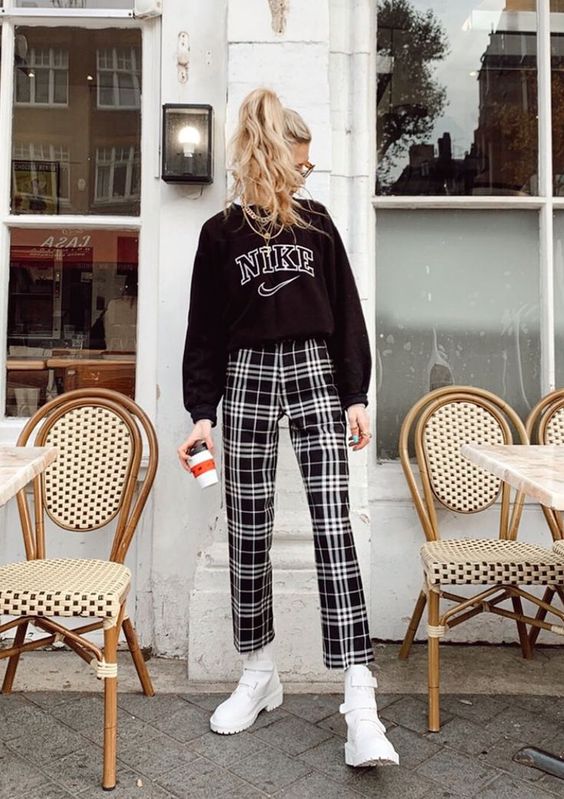 There's nothing better in an outfit than a good juxtaposition, and this accomplishes just that. By mixing a casual piece (a sweatshirt) with one that's ordinarily more formal (plaid trousers), it accomplishes an effortless feel that exudes coolness. With this season's chunky combat boots and a shoulder bag, it's a perfect off-duty look for all your weekend activities.
2. A blazer and mom jeans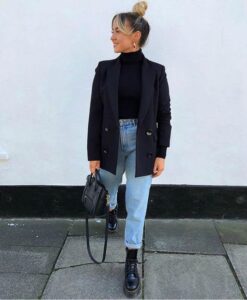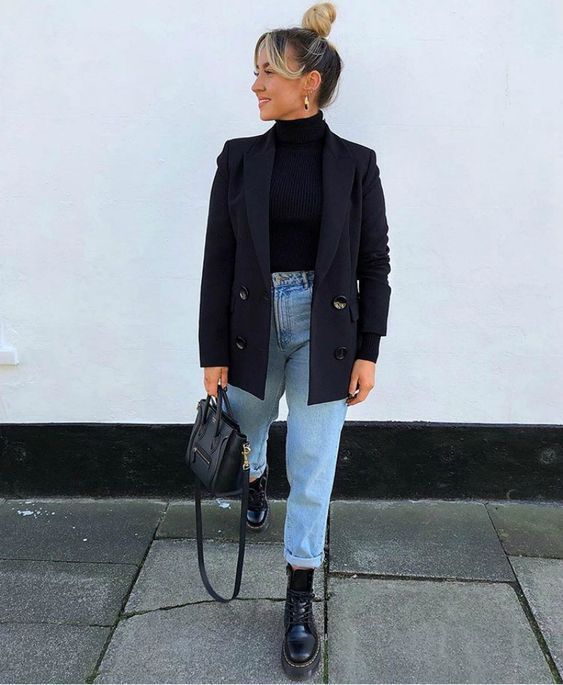 Styling an outfit doesn't need to be rocket science; a look full of up-to-date basics can appear just as trendy as a look that's actually full of trendy pieces—and often, the result feels more elevated. By pairing a black oversized blazer with a basic white mock-neck, mom jeans, and Chelsea boots, you get a look that you can turn to time and time again and will look just as good no matter how many times you wear it.
3. A midi dress and knee-high boots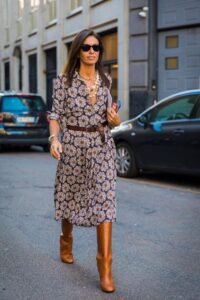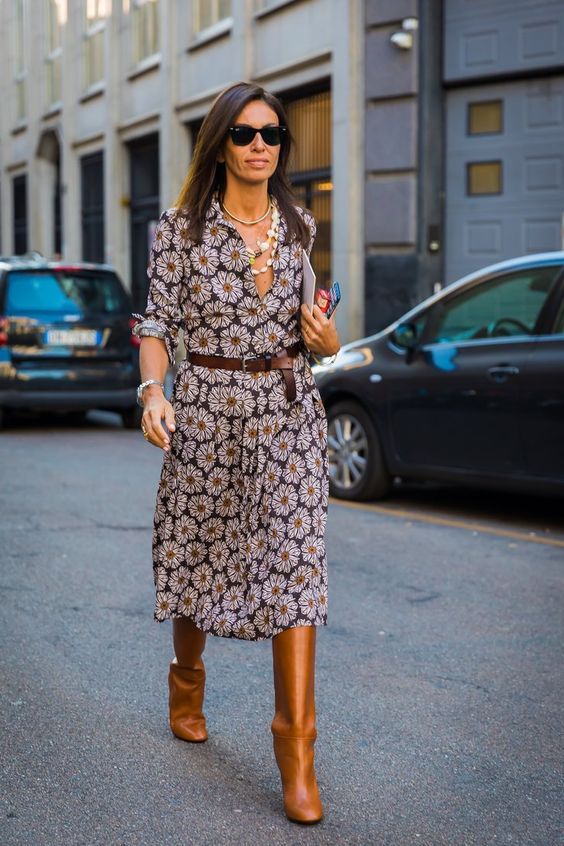 The beauty of this season's knee-high boot trend? They're beginning to be worn with a midi dress, making a two-piece outfit that you can rely on whenever you're going somewhere you need to look a bit elevated. Bonus points for a midi that's in one of this season's hottest colors.
4. A white button-up and chunky loafers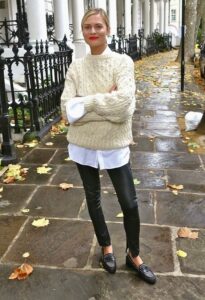 There are infinite ways to style a white button-up, but there's no need to always re-invent the wheel with it. With a pair of light-wash mom jeans, chunky and trendy loafers, and your favorite pair of sunnies, it'll look like you put way more effort into the look than you really did. When in doubt, this is a look that will never fail you.
5. A shacket and jeans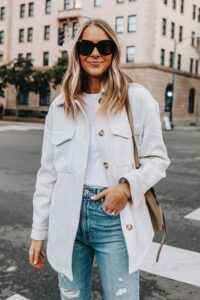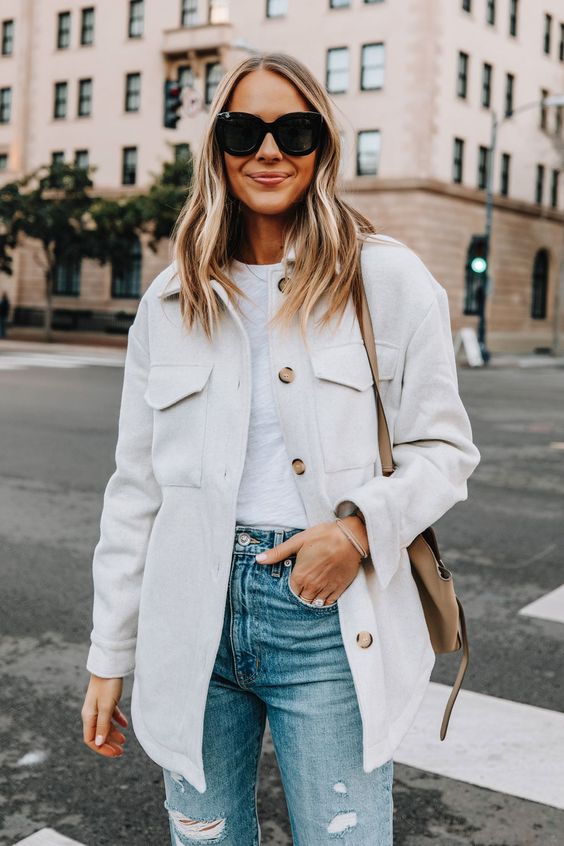 Luckily for those of us who hopped on the shacket trend last year, they're back again in 2021. With a white tee, your favorite jeans, and a pair of chunkier boots, you'll get a relaxed feel that's perfect for just about any fall activity on your calendar (hello, apple picking).
6. Leather trousers and a plaid shacket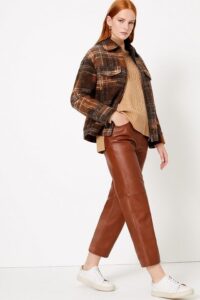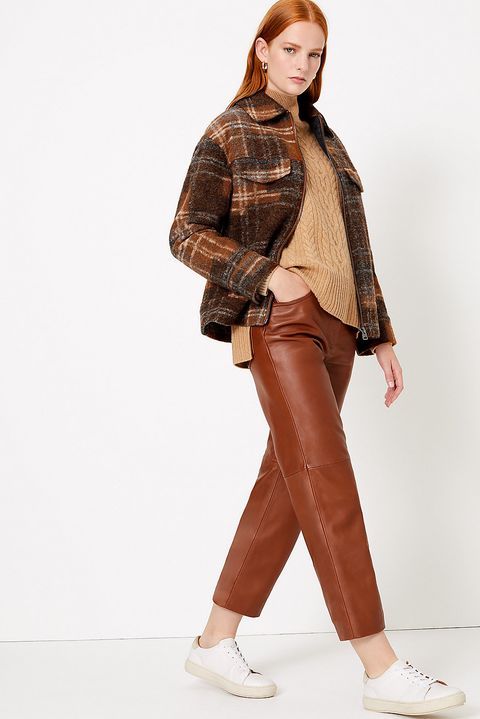 Looking to wear your leather pants in a casual way? Have no fear. With a basic top, plaid jacket, and white sneakers, the outfit will serve as an updated version of your favorite black jeans, with a result that's just a bit edgier.
Read our latest articles: