The 27 Best and Worst Dressed Celebs at the Met Gala 2022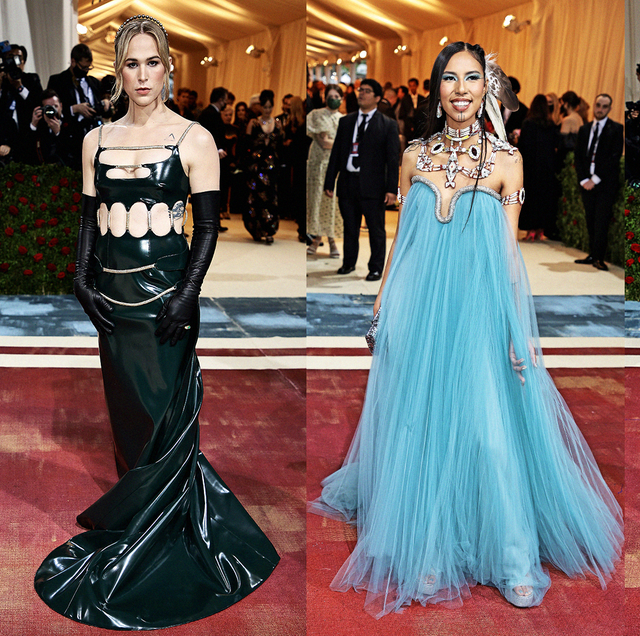 The Met Gala is back, and with it comes all the high fashion and celebrity attention-seeking we all love so much. And why not? It's not just the biggest night in fashion—it's practically the "look at me" prom. Celebrating the
Costume Institute's exhibit America: An Anthology of Fashion, with a "Gilded Glamour" dress code requested, the Met Gala isn't actually a costume party, although many people get hung up on whether attendees stick to the year's theme or not.
For us, it's not that
we want to see literal bustles and tiaras on the red carpet so much as we want to see a tribute to the grandeur and luxury of the period. It's less about looking like you're in a costume drama and way more about stepping up to the occasion and delivering something grand and eye-popping. The following stars represent the best and the most disappointing efforts of the night.
Best and Worst Dressed Celebs at the Met Gala 2022: Blake Lively in Atelier Versace and Ryan Reynolds in Ralph Lauren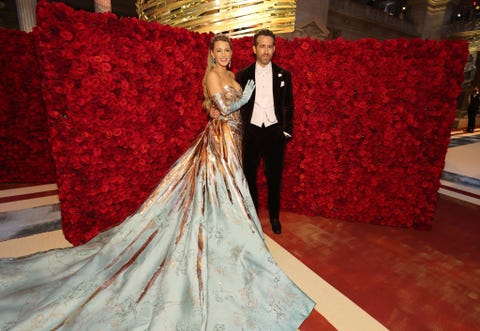 One thing you can say about Blake Lively: When she gets it right, she really gets it right. She didn't just show up in a Klimt-esque Versace with a bustle sporting opera gloves and a tiara, but she delivered a reveal and magically transformed herself
(with the help of several attendants), going from a bronze look to one designed to look like aged bronze, paying homage to not only the Statue of Liberty but also the ceiling of Grand Central Station and the architecture of the Empire State Building. She and her team really thought this one through and the results are spectacular. Oh, hey, Ryan. You look good too.
Cynthia Erivo in Louis Vuitton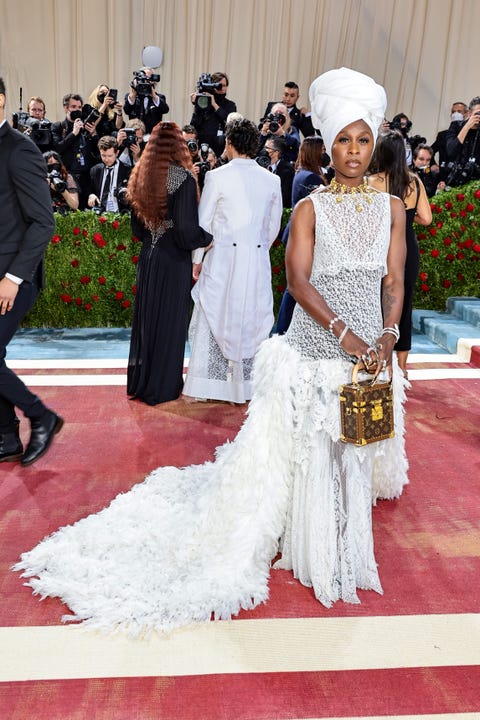 For many Black attendees, designers, and stylists, the big question hanging over the Met Gala this year was how to interpret its Gilded Age references and whether they felt compelled to acknowledge the truth of what life was like for most
Black people in America during that time. Cynthia always brings drama and dazzle to her red carpet style, but we think she really nailed it this time—in a look that pays homage to Black women of the 19th century with a regal, high-society undertone that feels right.
Mindy Kaling in Atelier Prabal Gurung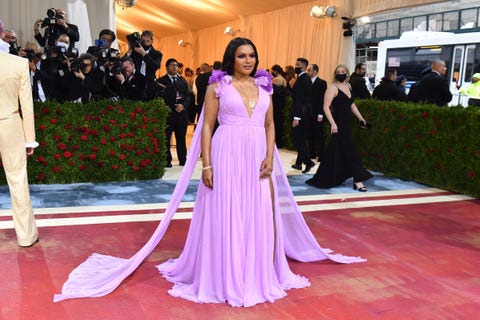 We're sorry, but someone has to say it. This is a Golden Globes dress if ever we saw one. Pretty, but completely underwhelming for this night.
Best and Worst Dressed Celebs at the Met Gala 2022: Megan Thee Stallion in Moschino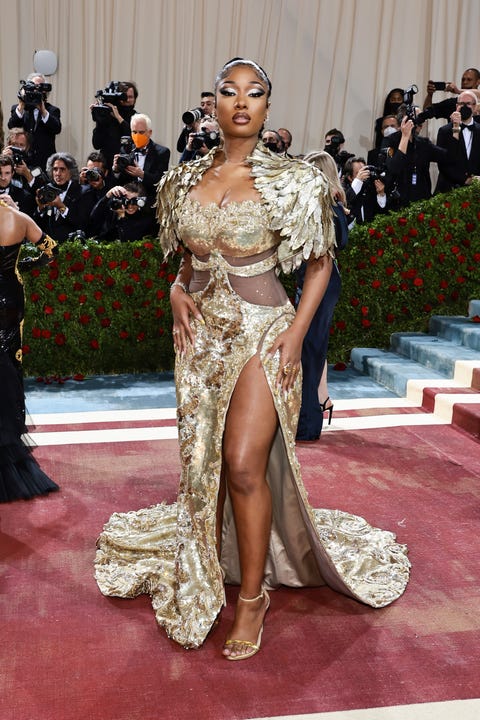 It's definitely gilded glamour, and it's giving goddess to boot. We're not entirely convinced those sheer cutouts are working with the rest of the design, but we love the ornate trim on the bust and the golden wing treatment on the shoulders. She looks like a Gilded Age statue of some idealized female figure.
Kaia Gerber in Alexander McQueen and Austin Butler in Prada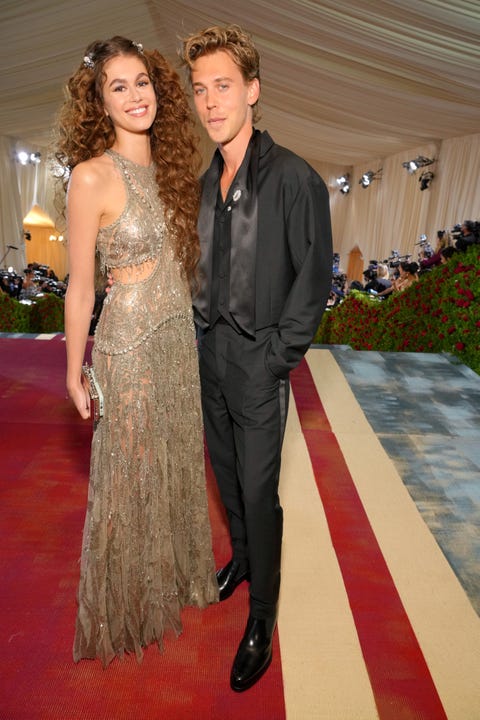 She is serving shimmering glamour and Pre-Raphaelite hair. He is serving "I'm so hot." The supermodel and star of the upcoming Elvis made their red carpet debut as a couple, and we'd say they crushed it. While they're not among the more eye-popping looks of the night, they couldn't look more impossibly glamorous, more in love, and more…well, hot.
Tommy Dorfman in Christopher Kane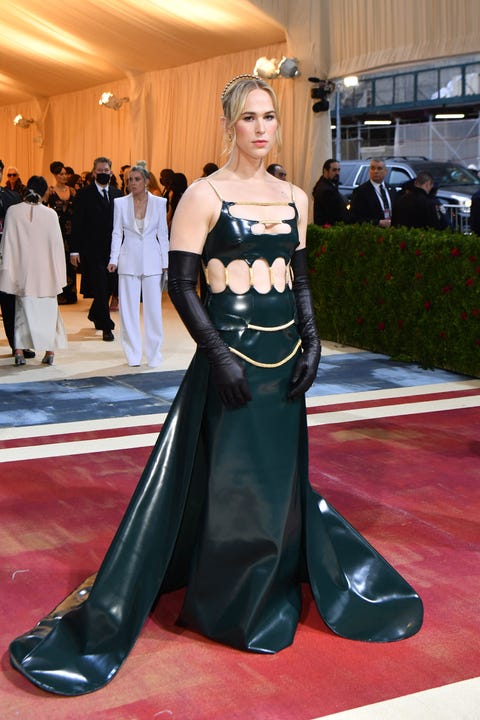 We hate to say it, but we're afraid this isn't working for us. The textile is heavy and that somewhat dreary green and black combination isn't helping or giving the look that feel of luxury the night requires.
We love the little tiara, and the opera gloves are definitely on point. Her minaudière says "Protect Trans Kids" on it, which automatically makes it the best accessory of the night. We just don't love the dress.
Kim Kardashian in Vintage Jean-Louis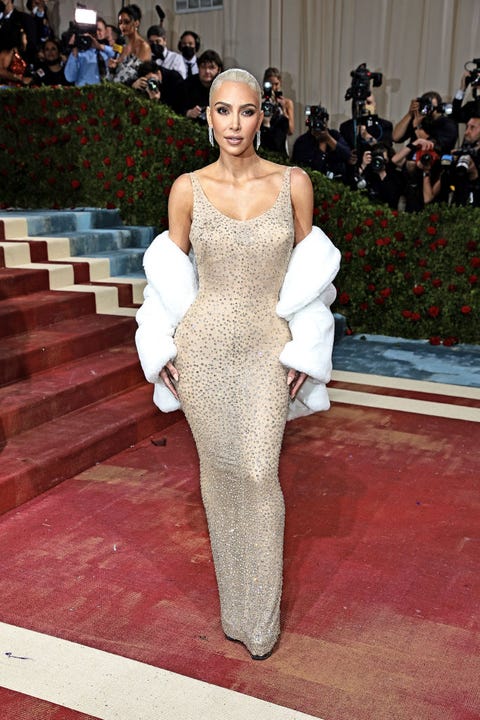 The reality star and business impresario stunned by showing up in the literally iconic Jean-Louis dress based off a Bob Mackie sketch worn by Marilyn Monroe when she sang "Happy Birthday Mr. President" to John F. Kennedy at Madison Square Garden in 1962.
It's probably one
of the most legendary dresses in American political and entertainment history, and Kim smartly unveiled a new Marilyn-blonde hair to go with the dress. She looks amazing—and not for nothing, but she's a walking advertisement for her own shapewear line, which is almost certainly a big reason for wearing it. What could be more American than that?
Joe Jonas and Sophie Turner in Louis Vuitton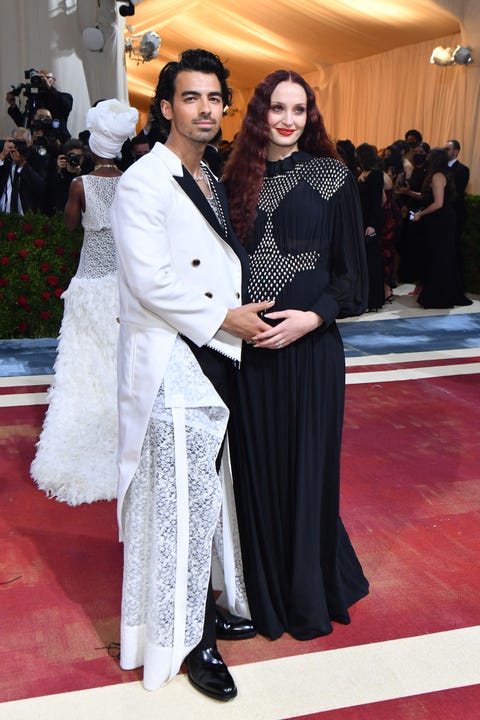 She's the picture of old-school romanticism with a slightly goth undertone to it. The dramatic titian hair and consumptive eye makeup are giving that lovely, if relatively simple, gown exactly what it needs. She looks amazing—and comfy. We give him all the credit in the world for stepping outside his comfort zone, but he looks like he got his pants tangled up with her lingerie in the wash.
Best and Worst Dressed Celebs at the Met Gala 2022: Kacey Musgraves in Prada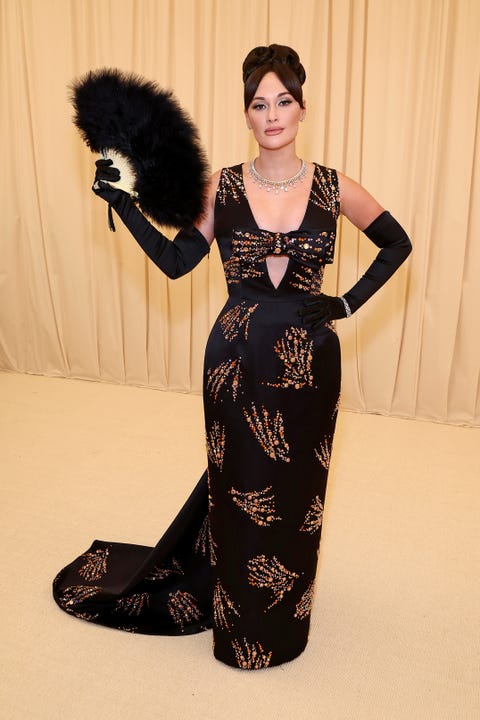 Somehow, Kacey managed to reference both this year's Gilded Age theme and 2019's camp theme at the same time. This is fun and cute, but it has all the right references—bustle, opera gloves, big hair, and fan—without looking like a period costume.
Vanessa Hudgens in Moschino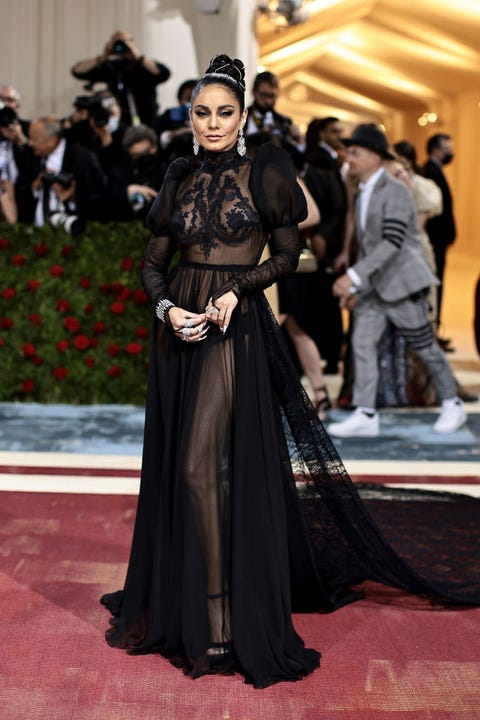 Girl, we guess so. Look, we'll keep saying that the Met Gala is not meant to be seen as a costume party and no one absolutely needs to dress according to the theme. This is very dramatic and looks great on her, but we've seen it a hundred times before and that's really not something one should want to hear about their Met Gala ensemble. Credit where it's due: Her hair and makeup are very good.
Janelle Monáe in Ralph Lauren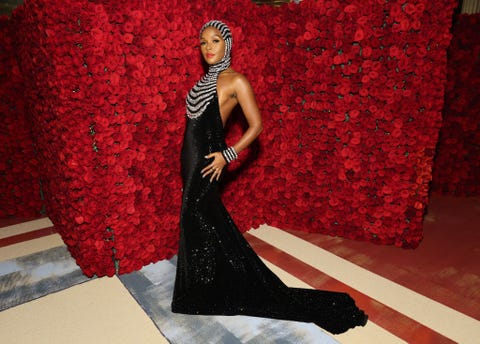 In many ways, this could look could be seen as almost too simple for the Met Gala, something better suited to a film premiere or awards red carpet. That might be true for mortals, but the "Pynk" singer and recent author knows exactly how to inject the maximum amount of drama into a look, making everything they wear feel otherworldly and stunningly original. Bottom line: She looks amazing and like she belongs right where she is. That's always true of her.
Sebastian Stan in Valentino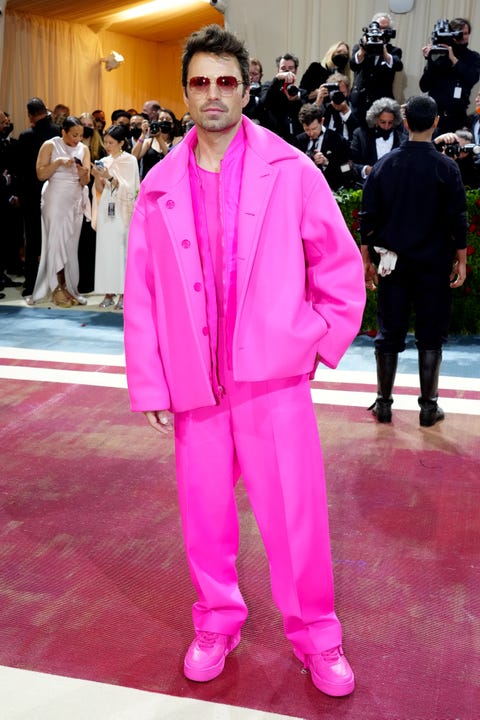 Look at it this way: If some bratty robber baron heir or attention-seeking social climber time-traveled from the late 19th century to today, this is what he'd wind up wearing. After all, the Gilded Age was all about the 0.01 percent, and this is pretty much how we'd expect some tech billionaire to show up. Besides, he looks so darn cute in pink. We can't sign off on the kicks though. Put some shoes on, sir.
Best and Worst Dressed Celebs at the Met Gala 2022: Ashley Park in Atelier Prabal Gurung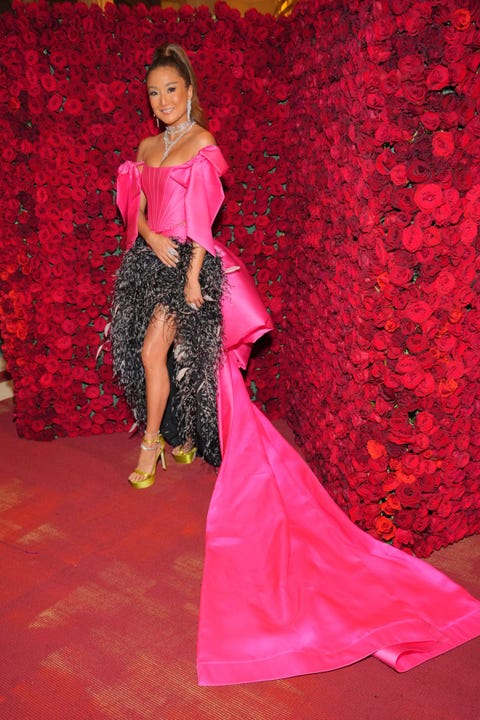 This look is trying to do entirely too much, and in a way, that's what makes it so on point. We have a hard time with the idea that the skirt and bodice are supposed to go together, but the latter is great fun and the former is coming at you straight from 1890. The only part we really don't like is the shoe choice. Those sandals pull focus from a look that already has enough going on.
Anderson Paak in Gucci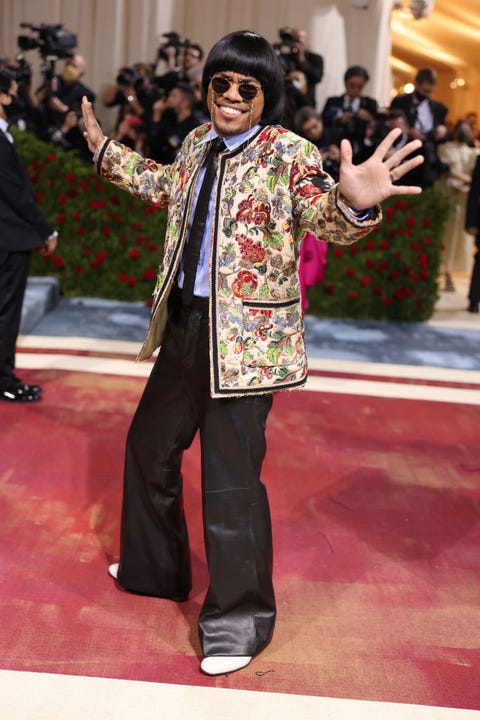 It's giving Bootsy Collins by way of Swinging Sixties London. The "Leave the Door Open" singer served up luxury and opulence but with a surprisingly restrained feel to it. In fact, as much as we love the jacket, we're not sure the skinny leather tie was the way to go with it. Still, there's no denying it's a singular look that can't be mistaken for anyone else's.
Lizzo in Thom Browne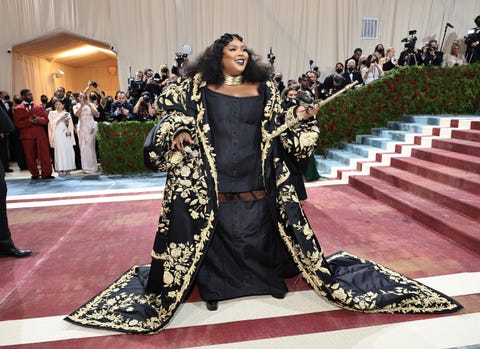 An absolute queen. The opulence is off the scale. The coat—which feels very on point for the theme—would probably be enough for most people, but she's serving a killer (almost literally) manicure, gorgeous hair, and a choker that evokes the neck rings worn by Ndebele women called idzila. So many stunning references combining to make something uniquely stunning and totally Lizzo.
Shawn Mendes in Tommy Hilfiger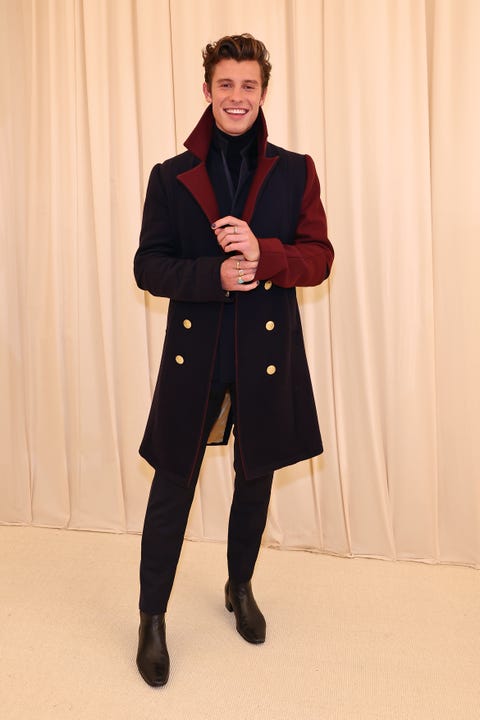 We'll say it: meh. It's pretty clear that a whole bunch of men ignored the white tie dress code (and we've praised many of them right here). This is very stylish and we'd sound dumb trying to argue that he doesn't look great in it. But it's aspirational fashion, the kind of look a lot of regular guys would love to have in their wardrobe. For us, that's not what the Met Gala is about. Where's the fantasy?
Michelle Yeoh in Atelier Prabal Gurung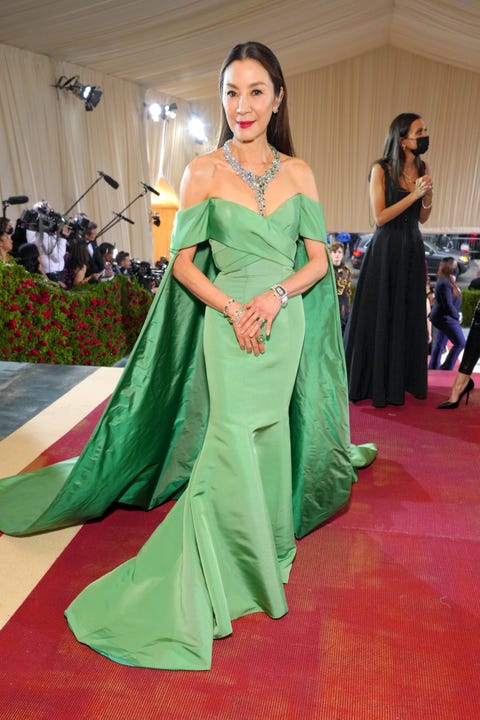 The Everything Everywhere All at Once star practically glowed in this beautiful emerald off-the-shoulder gown with an oh-so-appropriate Watteau back. A relatively simple but beautifully effective update to a 19th-century classic, topped off with some of the most fabulous jewels of the night. This lady didn't need to come gilded. She brought her own sparkle.
Quannah Chasinghorse in Atelier Prabal Gurung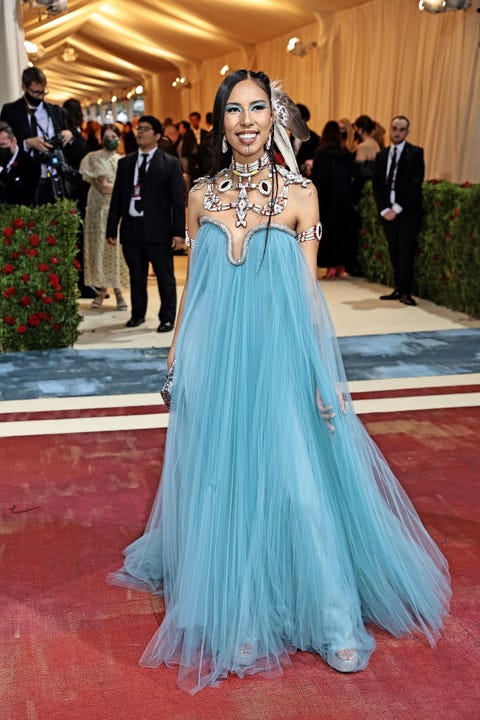 The model and First Nations activist paid tribute to her heritage and Indigenous people in this stunning turquoise and silver gown accessorized with traditional Indigenous jewelry designs referencing the elements of the earth, created by Lenise Omeaso, an Amskapi Pikuni artisan from the Blackfeet reservation in Montana. Not just a beautiful look but one that truly references American fashion in the purest sense of the phrase.
Gigi Hadid in Atelier Versace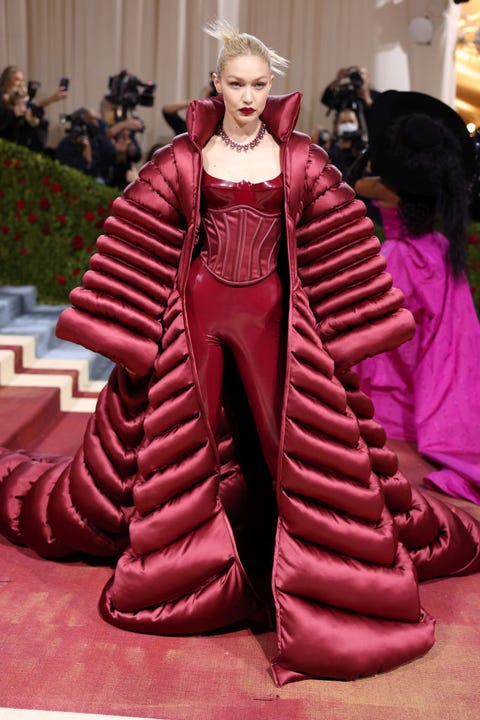 The lipstick-red PVC jumpsuit is an eyepopper for sure, but it's the wild circus tent of a puffer jacket that turns this from "merely" stylish into capital-F Fashion. And believe it or not, we think the grandeur and borderline obnoxiousness of the design make it perfectly on point for the theme of the night.
Camila Cabello in Atelier Prabal Gurung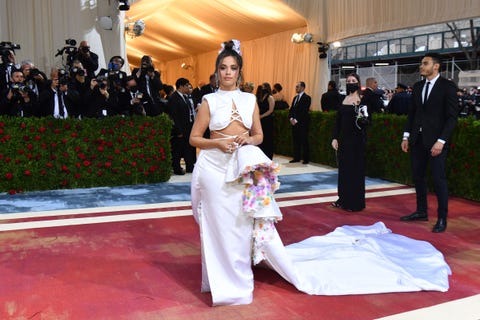 This one's a big ol' no for us. We get that the skirt is evoking the grand ballroom styles and bustles of the Gilded Age, but the white fabric doesn't look rich enough and those flowers are coming off very "craft store." The design of the top is flat-out terrible.
Emma Corrin in Miu Miu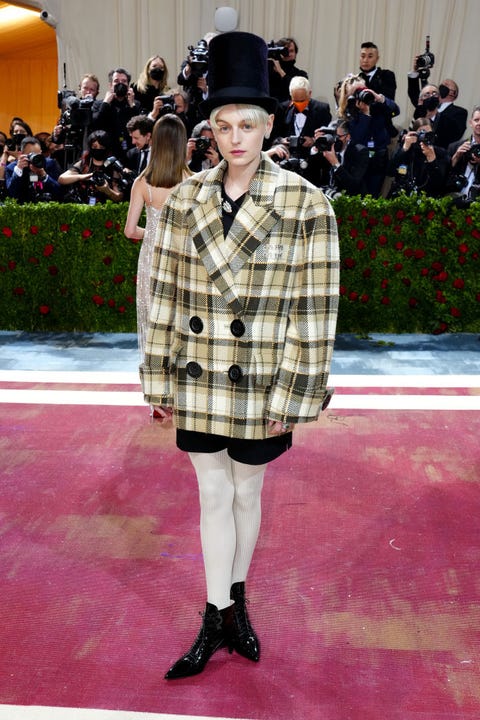 We will never not love what this punk pixie princess brings to any red carpet. No matter what the event, they will always be the one who looks like nobody else there. This oversize coat and ridiculously fun top hat are a reference to 19th-century New York socialite Evander Berry Wall, known as King of the Dudes. Yes, he dressed pretty much exactly like this. It's such a fabulously original way to evoke the period and it's so perfectly her that she'd pick one of the true oddballs of the upper class to pay homage to.
Normani in Christian Siriano

When we say we loved this, we mean we really loved it. It's hot, it's modern, and it's got a little bit of that Gilded Age feel to it with a voluptuous skirt and a hat worthy of any heiress or socialite of the era. It's fun and sexy and totally on point.
Venus Williams in Chloé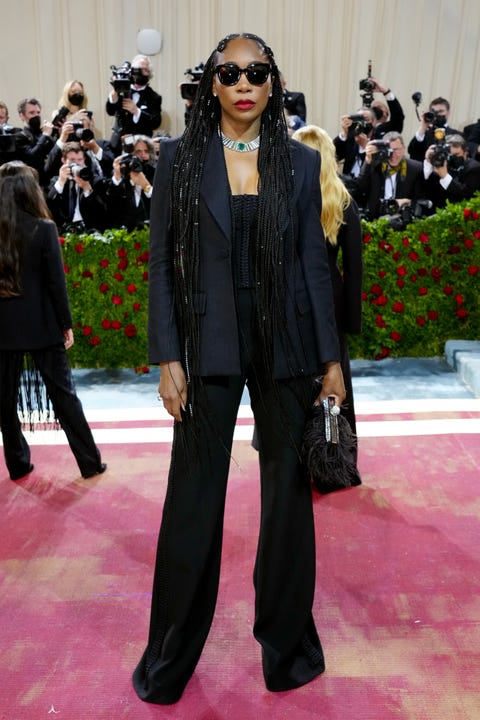 We normally wouldn't love a plain black suit for the Met Gala. While we don't think women are required to wear gowns, we think any suit on any wearer should have some sort of…we don't know, oomph or twist to it. Sorry to use such highly technical terms! But she's got so much presence and her hair looks so amazing that the whole look feels elevated. That bag is a fun touch and the necklace is absolutely stunning.
Melissa King in Thom Browne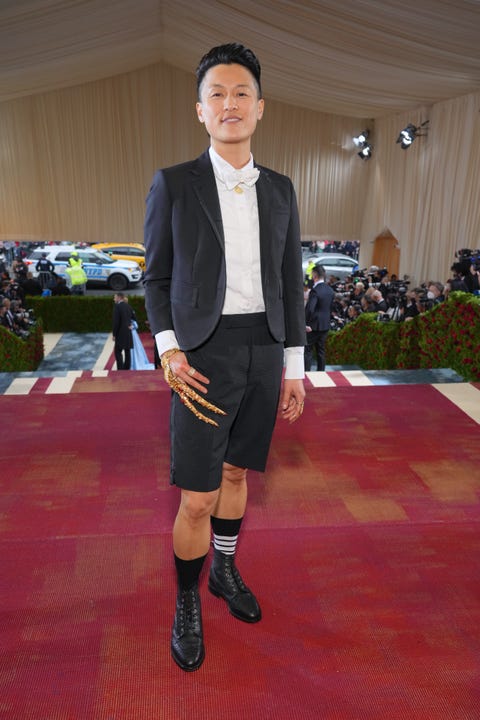 Another example of making a relatively plain (if you can say such a thing about a Thom Browne design) black suit look Met Gala ready. She looks stunning in white tie, but the addition of that amazing hand jewelry turns the whole look into something slightly weird and totally, ridiculously fabulous.
Best and Worst Dressed Celebs at the Met Gala 2022: Gemma Chan in Louis Vuitton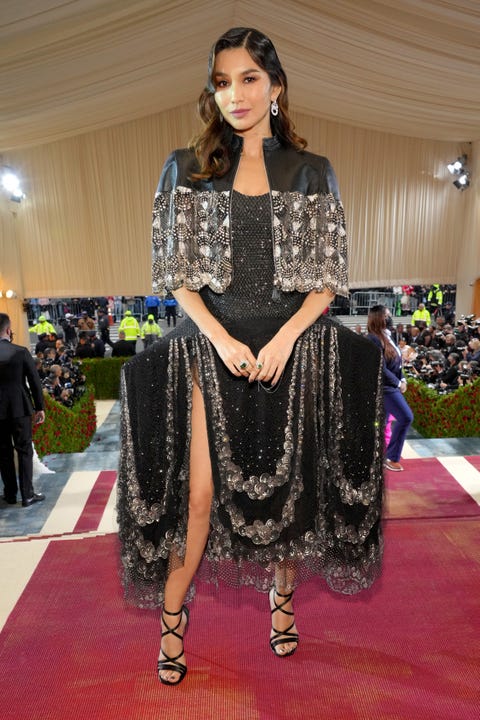 We were really hoping someone would play around with silhouettes from the Gilded Age other than the much-referenced corset and bustle. With this updated take on the classic robe à la française style (also very popular in the late 19th century), the Eternals star delivered one of the more notable and interesting looks of the night. Do we love it? Sort of. We love that she went for it.
Evan Mock in Palomo Spain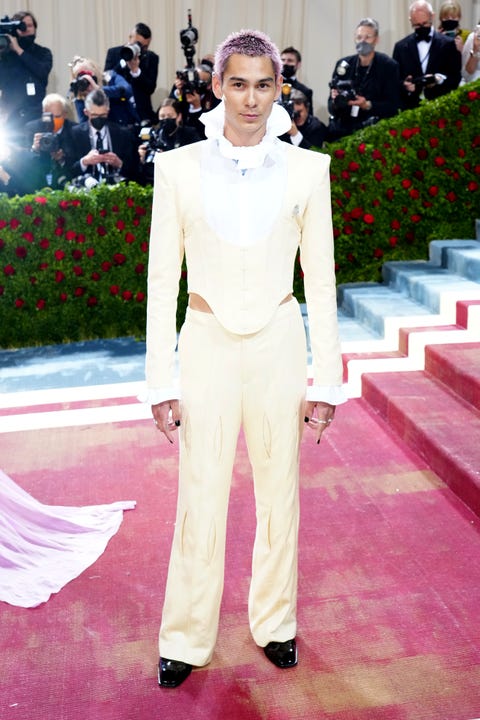 He can look good in pretty much everything, so this tricky Romeo-looking 'fit probably landed on the best possible wearer for it. If nothing else, it coordinates especially well with his hair. It's about two or three centuries too early to be considered a Gilded Age reference (and it's a whole ocean away from having anything to do with American fashion), but it's an unforgettable look and at least he didn't play it safe.
Best and Worst Dressed Celebs at the Met Gala 2022: Sarah Jessica Parker in Christopher John Rogers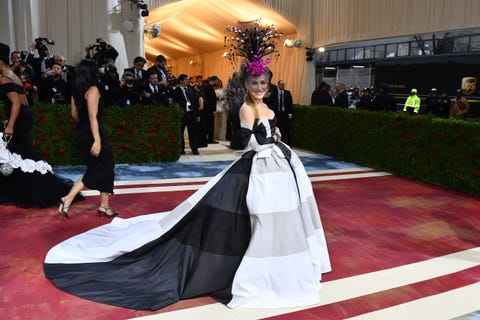 You can always count on SJP to deliver for the Met Gala. The And Just Like That… star wore an homage to Elizabeth Hobbs Keckley, who was the first Black fashion designer employed at the White House. A formerly enslaved woman, she went on to become the personal dressmaker to First Lady Mary Todd Lincoln. While the design may not speak directly to the Gilded Age, there's no denying the power and beauty of the reference.
Follow us on social media: