The 'Emily in Paris' Season 2 Outfits Are as Iconic as You'd Expect
ICYMI, Emily Cooper is back (!)—and her wardrobe is more statement-making than ever. I know it feels impossible that after a whirlwind first season (and tons of colorful lewks), Emily in Paris could have an even wilder second season, but it's happened. And frankly, it's the distraction we (read: I) could use right about now.
Of course, amidst the drama there is always ~fashion~ to fawn over (and analyze). Luckily, the show's costume designer, Marylin Fitoussi, has given us plenty to work with for season 2—including a treasure trove of both designer and vintage looks. So let's get started, shall we? A deep dive into Emily Cooper's wardrobe waits for no one. Here are Emily in Paris Outfits and where you can buy the outfit, but don't have high hopes that you can afford it because Emily in Paris Outfits are not really on budget!
Episode 1
We're already starting the season off strong with Emily's colorful office 'fit, people. Have I ever wanted a rainbow striped polo before? Absolutely not. Am I fully obsessed with this cheery knit now that I've seen it? You better believe it. Of course, because Emily is not known to stop at one singular statement piece, she's also wearing a bold green belt with a blue and green miniskirt. And to top it all off, a gorge green coat and coordinating bag. It's a far, far cry from the sweatsuit I'm wearing while working from home.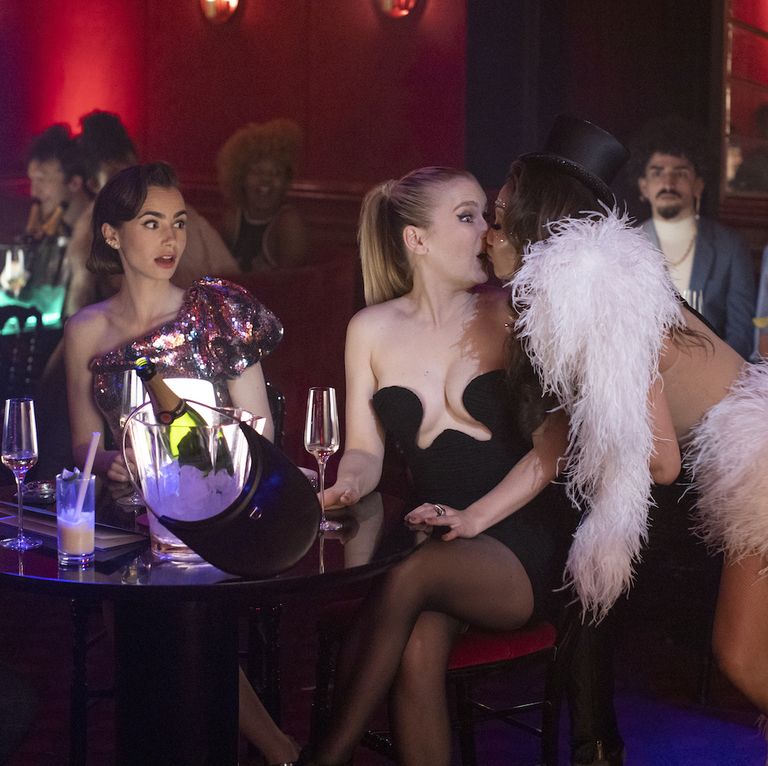 Of course, I'd be remiss to skip over Camille's incredibly chic Balmain blazer (those buttons!) paired with Patou wide-leg pants and a Patou wicker bag. She looks pretty damn good for someone who's distraught about her confusing boyfriend (er, ex-boyfriend).
Later in the episode, the gang gets all gussied up (a term at which I'm sure Sylvia would scoff) to see Mindy perform at a French drag show. Emily sticks with her tried-and-true color-heavy aesthetic and wears a sequin one-shoulder Isabel Marant dress—that's sold out everywhere, of course. (🙄) At least it'll live in our hearts forever.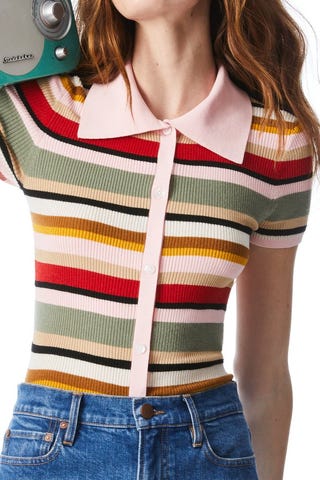 Colleen Striped Button Down Polo
$140.00
Episode 2
After getting ditched (rightfully so though?) by Mathieu before arriving in Saint-Tropez, Emily's understandably a bit disheveled—but you'd never know it based on her ensemble. She casually steps off the train in a vintage Courrèges dress and a seriously stunning vintage coat. On top of that, though, she's wearing Valentino sunglasses (!), Vivienne Westwood for Melissa heels, Maison Fabre gloves, and a vintage scarf. It's very Hollywood glam (which is ironic, considering she's on vacay in the French Riviera).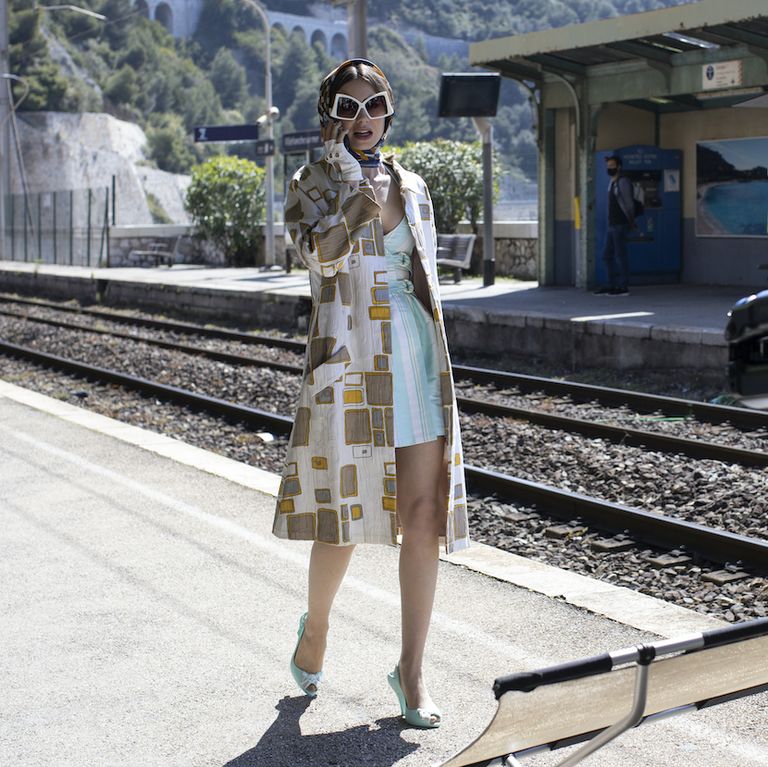 After accepting the fact that this is turning into a girls weekend though, Emily treats herself to a lil solo moment—oysters and selfies (that obvi go viral) included—wearing a Dolce & Gabbana patchwork dress. (And while she looks fab in this pattern-clashing outfit, we do wish that she'd chosen a designer without a racially-insensitive and homophobic past.)
The look is finished with a maximalist Louboutin bag and Marimekko bucket hat.
Once the girlies arrive, Emily slips into a flirty lilac Magali Pascal dress perfect for a day in the sun. She accessorizes with some rainbow Terry Dehavilland heels, a Carel France bag (ooh la la), and cute Miu Miu sunglasses.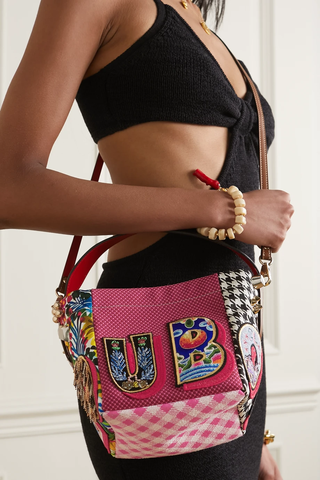 Caracaba Mini Appliquéd Tote
Episode 3
Wow, we love a romantic rainy moment! And you know what makes it even better? A stunning Self-Portrait orange frock and vintage Hermès jacket from the '80s. This look is giving the perfect amount of prep—and somehow actually looks v good when wet. If we had gotten a kiss between Emily and Gabriel in this scene, it would have been perfect. Alas, the tension builds.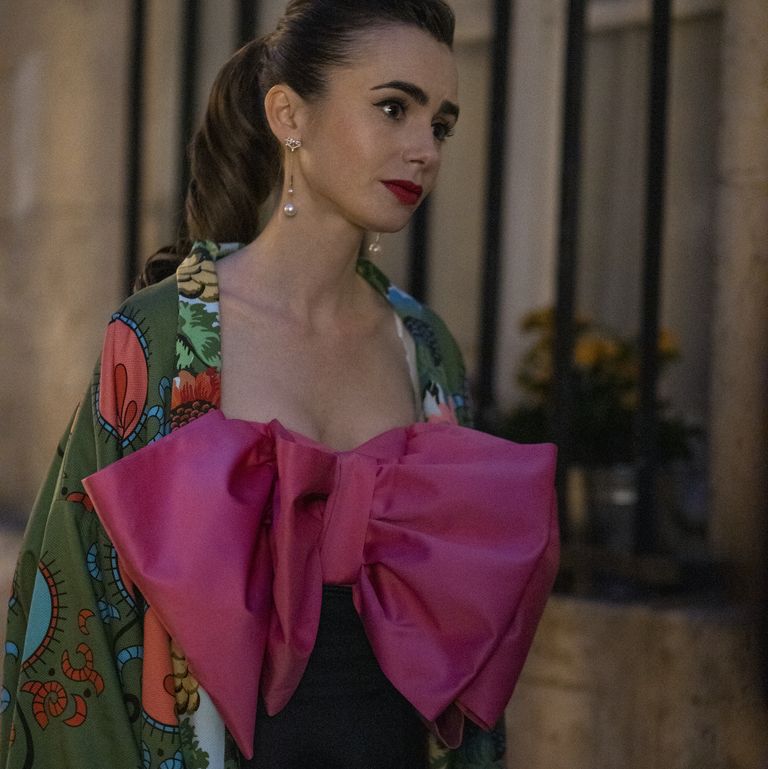 Later in the episode, Emily wears a luxurious birthday ensemble fit for a French queen. Donning a ROTATE Birger Christensen bow dress, a beautiful RIANNA + NINA kimono, and Tana Chung jewelry, our heroine enjoys a chill dinner party with her new friends—until Camille makes things, um, interesting (to say le least). Happy birthday, Em!