95 Best Couples Halloween Costumes You and Your Boo Can Wear This Spooky Season
Having trouble trying to find perfect Couples Halloween Costumes? No need to worry because these epic costumes are going to stand out
These funny, scary and punny options are creative enough to win this year's Halloween costume contest.
To all of our readers who consider themselves Halloween fanatics (or lovers of this spooky holiday), don't wait too long to find a costume (here are some easy last-minute outfits you can DIY if needed). As you deck out your home in festive Halloween decorations and creative carved pumpkins (can't forget the fun no-carve ideas), plan the perfect 'fit to match your bae (or "boo"). With our list of the best Halloween costumes for couples, you're sure to find a silly, scary, punny or adorable idea worthy of winning best costume of the year.
If you love dressing up,
shopping or crafting, we have a well-rounded selection of costumes you and your significant other will want to wear. Cute ideas include the Jack-O'-Lantern onesies and the Minions set. Scarier picks range from the Beetlejuice recreations to The Shining characters. Disney fans can transform into Minnie and Mickey, while DC and Marvel movie watchers and comic book readers can steal everyone's attention with a Harley and Joker costume (not to mention Gamora and Star-Lord). We have homemade Halloween costumes for the beginner (Bonnie and Clyde, for instance) as well as the expert DIYer and ideas that make eye-catching group costumes, epic trio costumes and unique best friend costumes (including the Hocus Pocus witches).
No matter what you're looking for, you'll be delighted by the best iconic costumes of all time. And if you want purely dark and mysterious looks, check out these scary couples Halloween costumes that are spooky enough to frighten your Halloween guests.
Minion and Gru Halloween Costume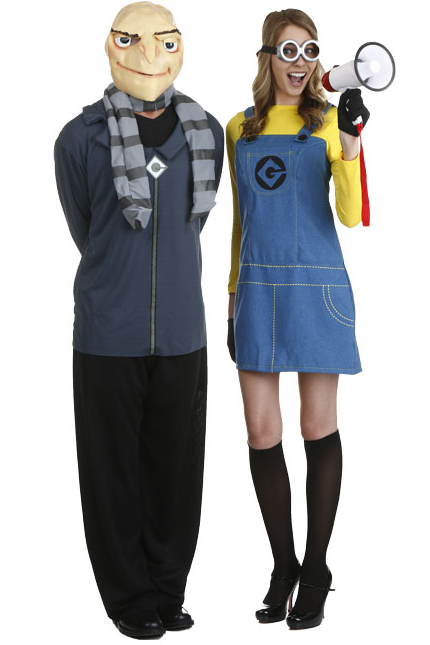 In light of the new movie, Minions: The Rise of Gru, why not dress as these quirky and fun animated characters? Transform your boyfriend into Gru with a costume accessories kit, then dress as an adorable yellow minion that follows him around. This is for sure going to make one of best Couples Halloween Costumes
Bonnie and Clyde Halloween Costume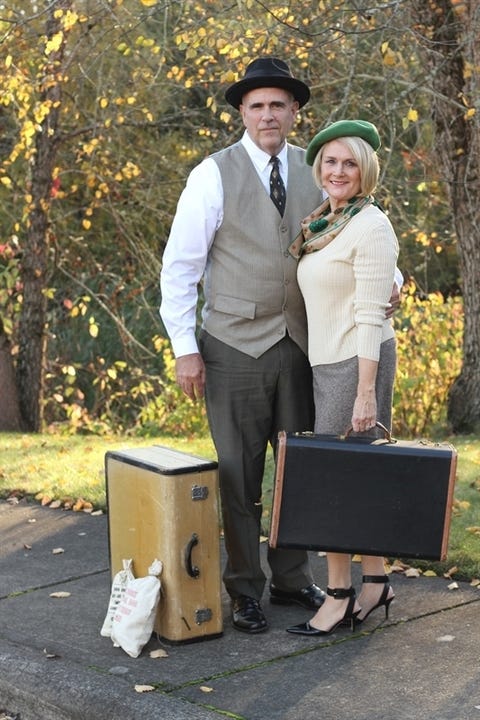 If you're more of a true crime fan, go for this classic criminal pairing by putting on your poker face and dressing in the most unsuspecting bank heist outfits.
Jon and Daenerys Halloween Costume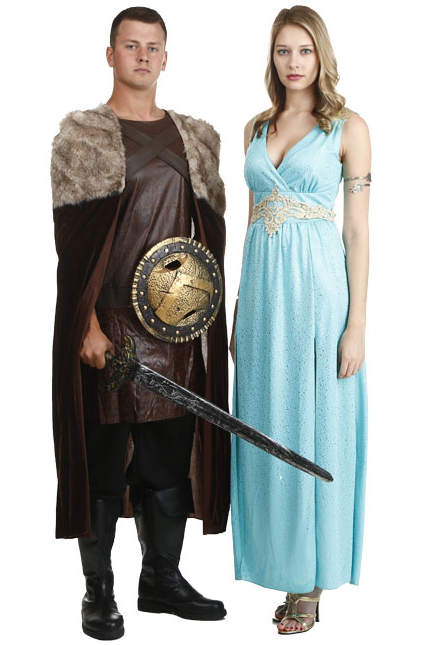 Game of Thrones had some of us crying at the ending (no spoilers!), and some were fans of the budding relationship between Jon Snow and Daenerys Targaryen. Become the future king and queen of the north (and Halloween party) dressed as this iconic duo.
Harley and Joker Halloween Costume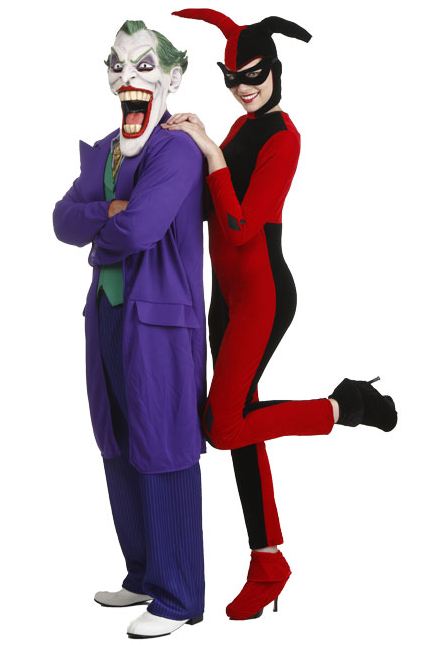 You'll surely beat everyone else's costumes with these villainous fits. We all know the story between the Joker and Harley, making this idea not only eye-catching, but extremely popular for DC movie watchers and comic book fans.
Chips and Salsa Halloween Costume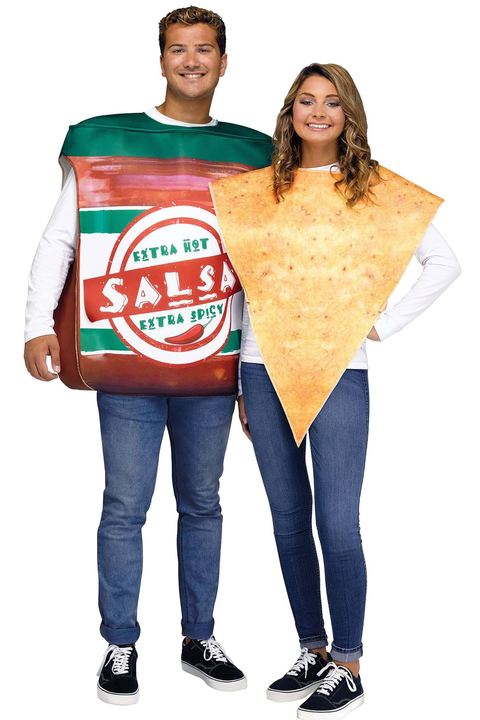 What make a couple costume one of the best Couples Halloween Costumes is creativity. Show everyone that your bae is truly the chip to your salsa (or vice versa). Don these hilarious and visually delicious costumes (and don't forget to bring some chips and dip to the party).
Mario and Luigi Halloween Costume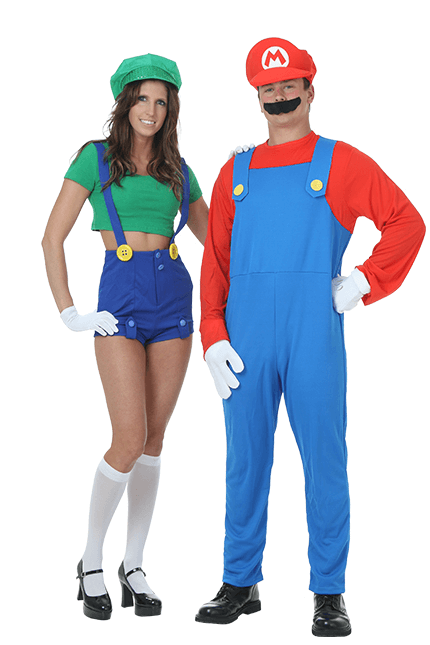 Mario and Luigi are classic game characters. These brothers have been through an array of challenges (from hopping on turtles for coins to fighting Bowser to save princesses). It's only fitting for one of you and your favorite person to sport their looks.
Matching Jack-O'-Lantern Halloween Costume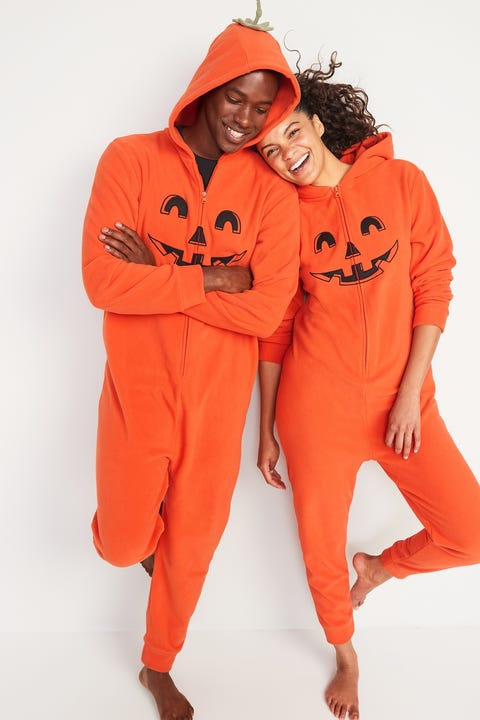 These gender-neutral onesies feature a built-in hood, long sleeves and a jack-o-lantern face in front. Bonus: They have a cute leaf and stem on the hood's crown.
Fred and Wilma Flintstone Halloween Costume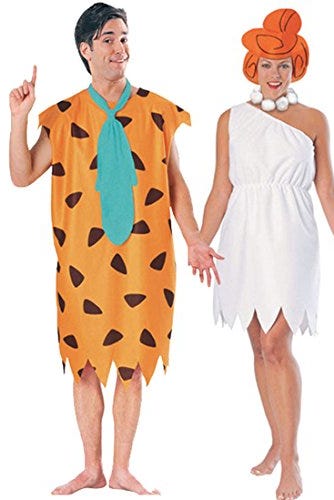 This one had to be on our Couples Halloween Costumes list because it is too iconic. Are your party guests ready to meet the Flintstones? Replicate this wacky and prehistoric couple with Wilma's hair, dress and necklace, along with Fred's shirt dress and tie (all included with your purchase).
Sarah and Winifred Sanderson Halloween Costume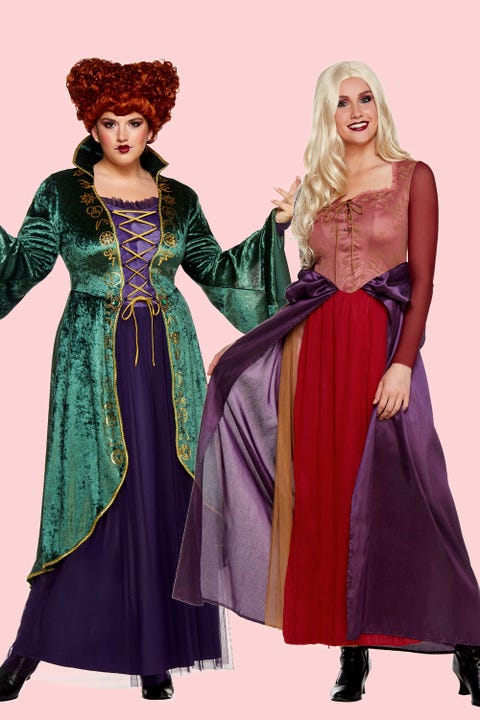 There's Glinda, Hermione and Sabrina — and then there's Bette Midler and SJP as two of most iconic fictional witches of all time. Grab your girlfriend and dress up as the spellbinding Sanderson sisters from Hocus Pocus.
Couples Halloween Costumes: Gamora and Star-Lord Halloween Costume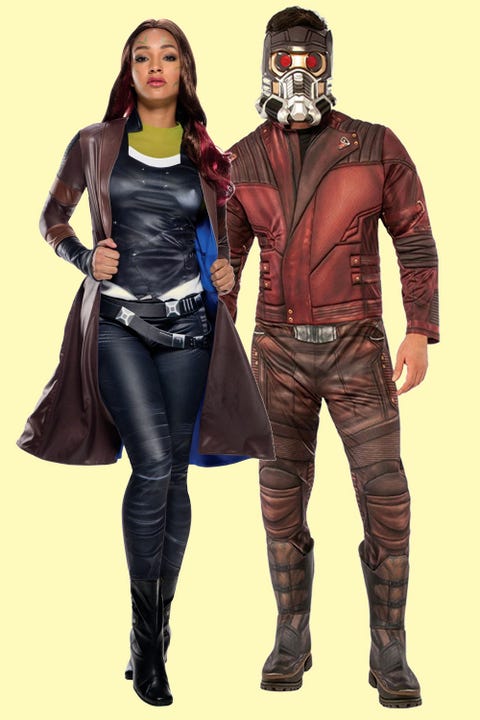 He's the Chris Pratt to your Zoe Saldana, although hopefully a better ending awaits. The good news is that it's an excuse to catch up on the latest Avengers movie beforehand.
Couples Halloween Costumes: Peggy Carter and Captain America Halloween Costume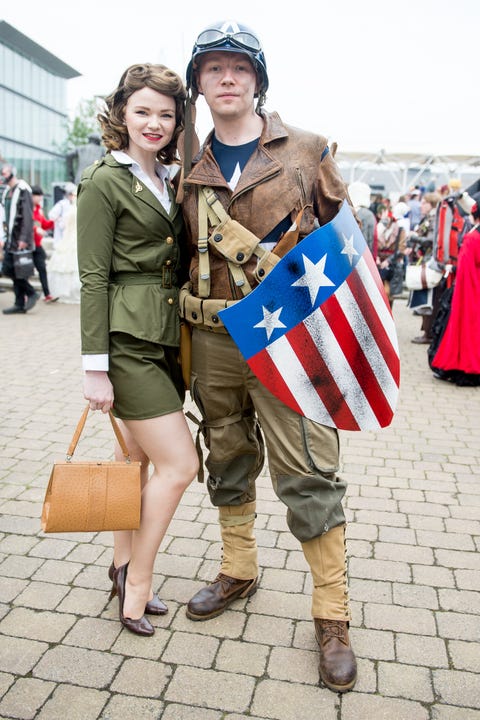 How cute is this couple o' patriotic heroes? If you and your partner love Marvel, then dressing as this dynamic duo is a no-brainer.
Bojack Horseman and Princess Carolyn Costume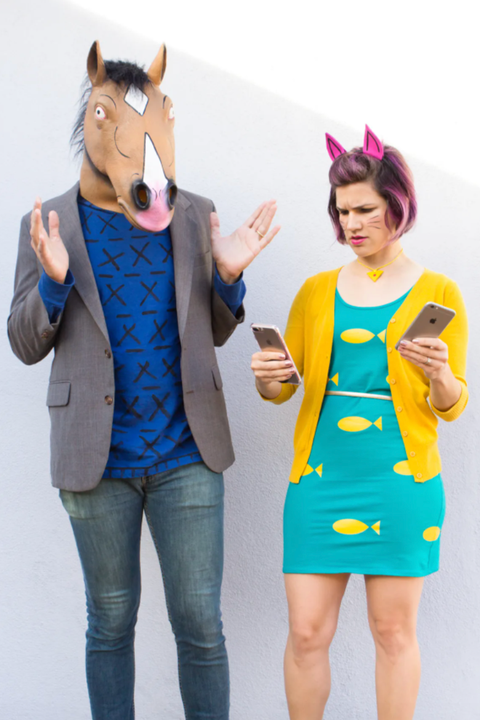 Bojack Horseman is a an animated horse with a sarcastic and funny personality. It's only fair you spread his cheerful persona with your partner dressed as his ex-girlfriend, friend and agent Princess Carolyn.
Couples Halloween Costumes: 'Money Heist' Halloween Costume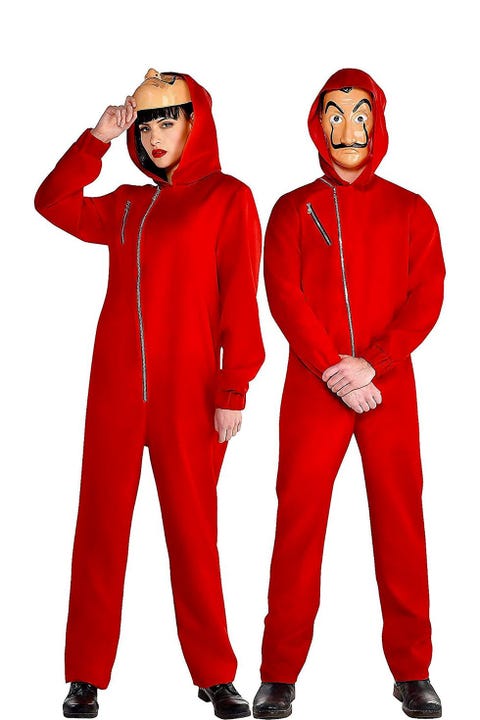 You won't have to compromise comfort to look cool this Halloween. Just throw on a red sweatsuit and mask for the ultimate disguise.
Couples Halloween Costumes: The Princess Bride Costume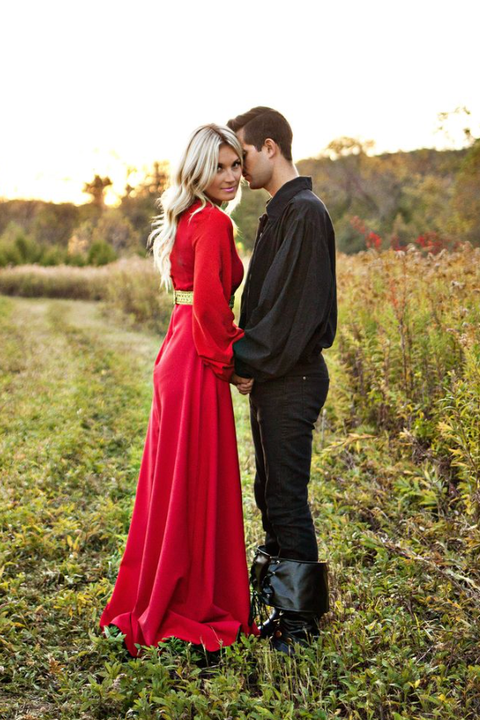 If you're a fan of the 1987 classic The Princess Bride, you and your partner will love playing heroic Westley and his beau Buttercup. Halloween is the perfect holiday to bring this fairytale romance to life.
Couples Halloween Costumes: Tropical Drink and Pool Boy Costume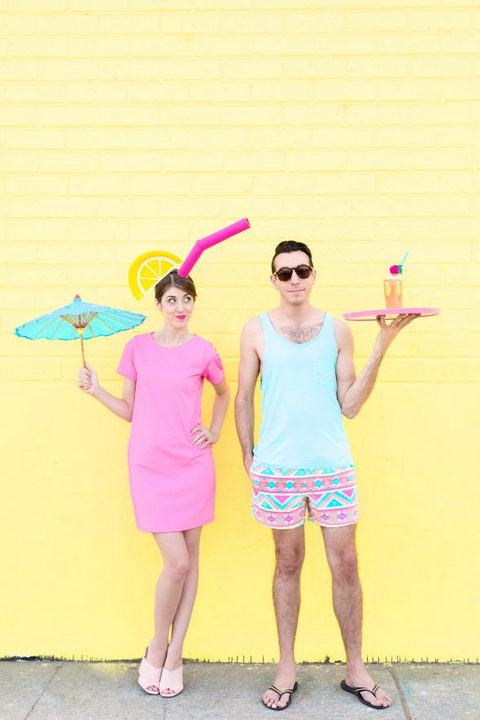 DIY your own beverage hat and pick out a colorful, cute dress to be your partner's tropical drink. Have him dress as a pool boy with some flip flops and shades to complete his look.
Couples Halloween Costumes: Queen and King of Hearts Costume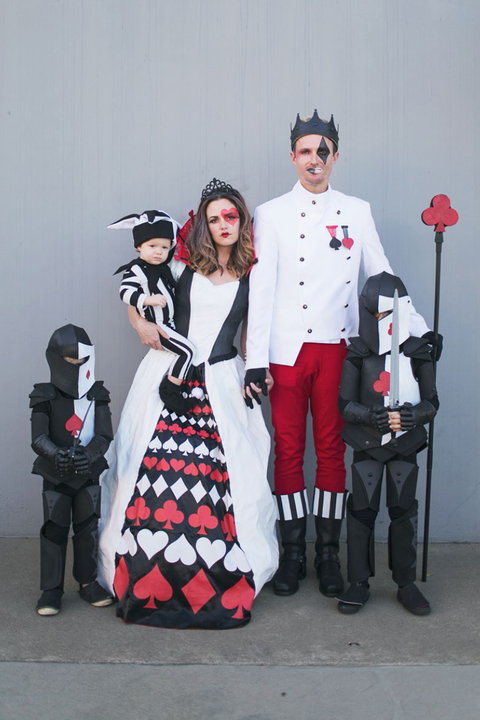 The live action Alice in Wonderland is a favorite movie for many. For this spooky season, bring the Queen and King of Hearts to life with costumes fit for screaming: "Off with Their Heads!"
Mr. and Mrs. Fantastic Fox Costume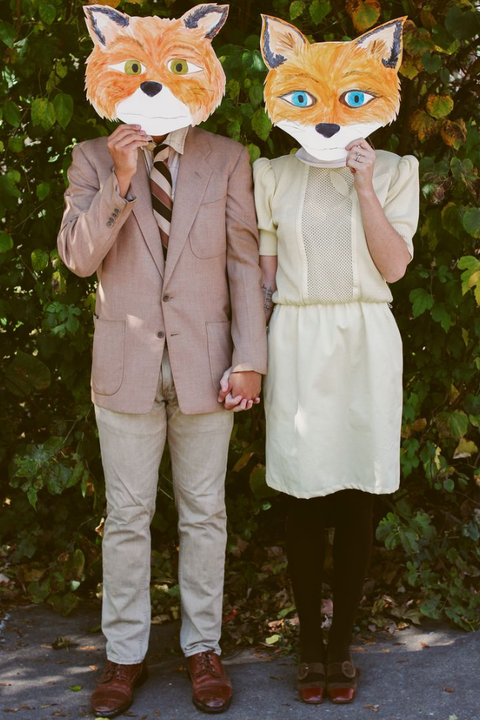 Nothing is sneakier than a fox planning a chicken heist. Be as cunning and creative as the Fantastic Mr. Fox himself with a fox couples costume that perfectly replicates the husband and wife.
Pushing Daisies Costume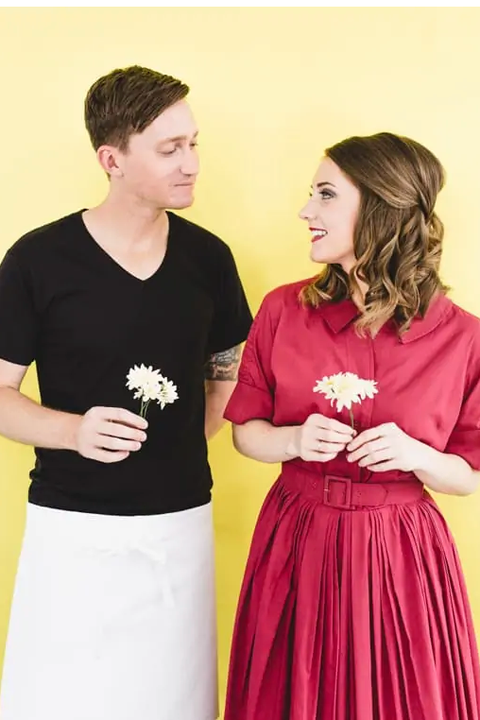 Pushing Daisies is a 2007 show about a handsome guy who uses his gift of briefly raising the dead to solve murder cases. It's a heart-warming drama and comedy with main characters you and your partner can easily DIY.
Fries Before Guys Costume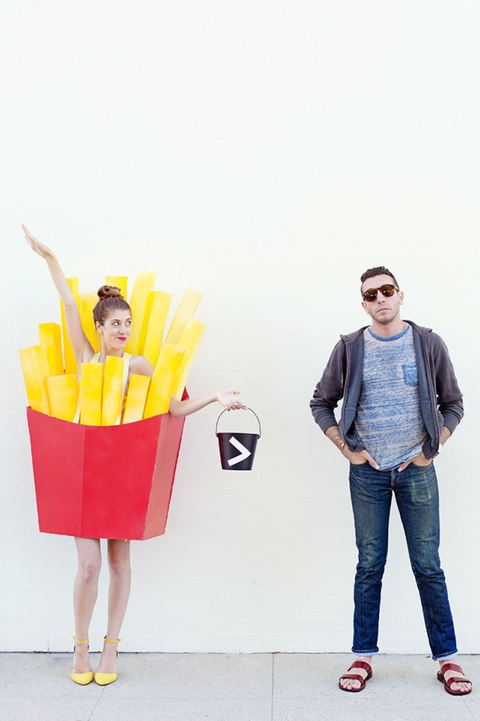 You know how the saying goes: Nothing can get between you and your fries, guys included. Remind your girlfriends of this popular saying by DIYing your own fries costume, while holding up your ">" bucket next to all the guys at the party.
Ice Ice Baby Costume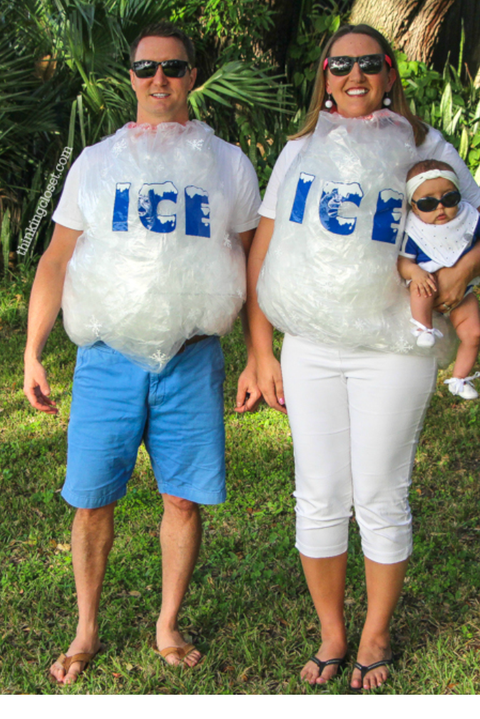 Grab your shades and turn yourselves into ice packs. Don't forget to play the "Ice Ice Baby" song as you enter the party (Best Couples Costume is guaranteed!).
Space Costume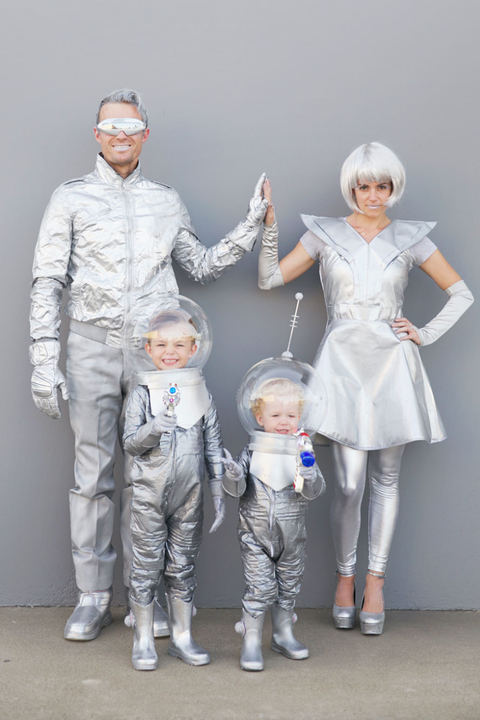 Whether you have kids or not, these space costumes are retro and creative Halloween fits. They also require lots of silver spray paint, along with cute space-themed accessories.
Hungry Hippos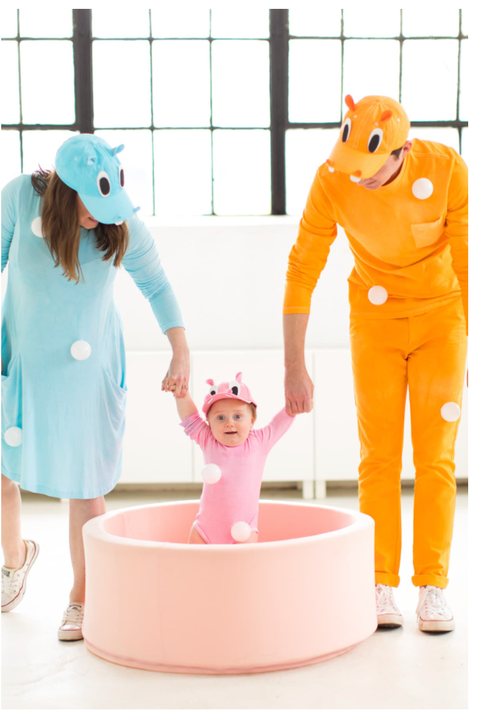 These costume ideas are inspired by the Hungry Hungry Hippos board game. DIY your own hippo-faced hats and hot glue ball pit balls to your lively outfits.
Loofah and Soap Costume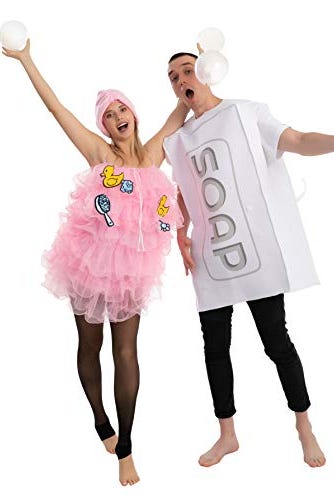 This set comes with a soap bar jumpsuit and a loofah costume. Attach your own bubbles and stickers to the loofah for a personalized look.
Lumberjacks Costume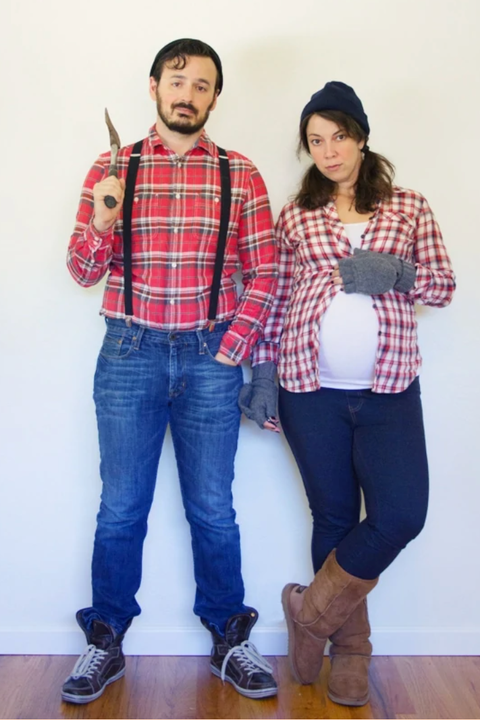 Dressing up as lumberjacks is a simple idea because you can choose clothes straight from your closet. Don't forget the suspenders and fake axes.
Trash and Recycle Can Costume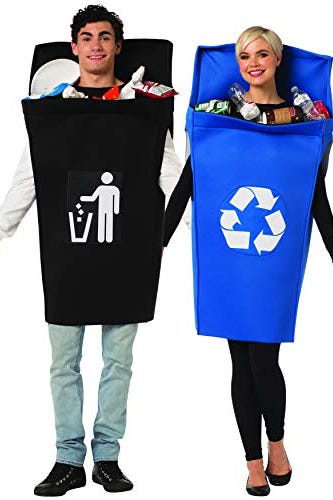 Your house isn't complete without a trash and recycling bin — and neither are you two without each other. These costumes are lightweight, easy-to-wear and will have everyone laughing.
Cowboy and Cowgirl Costume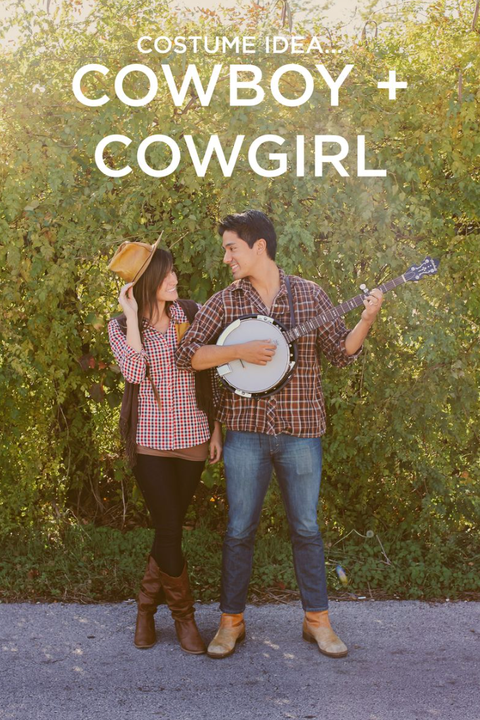 This is a classic idea with attire you can pull together at home. Plus, it's a great last-minute costume if you're running late. Be sure to grab a guitar though!
Peanut Butter and Jelly Costume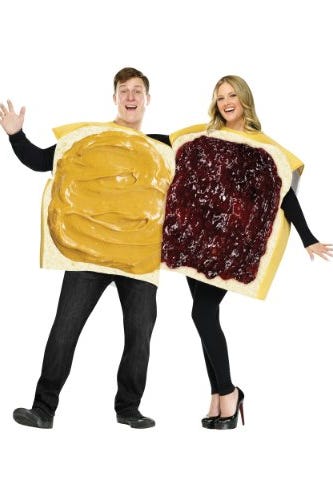 Can peanut butter really live without jelly? Of course not, which is why this classic pairing deserves recognition with a Halloween costume.
The Grand Budapest Hotel Costume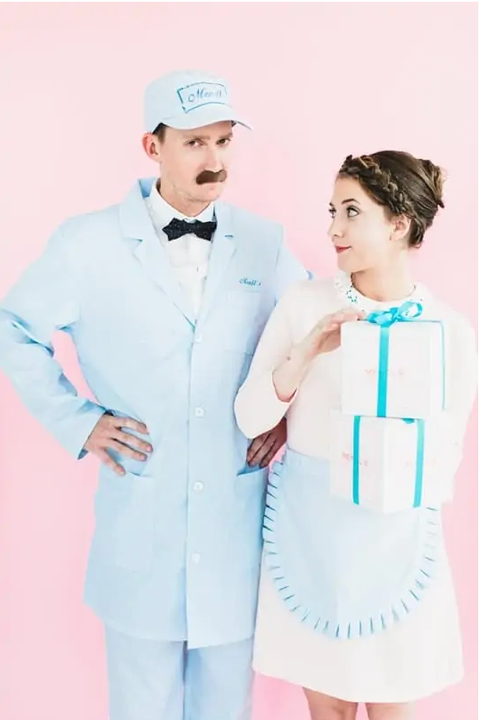 If you're looking for a couples costume idea that's classy and far from scary, The Grand Budapest Hotel has characters you can replicate. In this case, one character is in love with the lobby boy.
Robot Costumes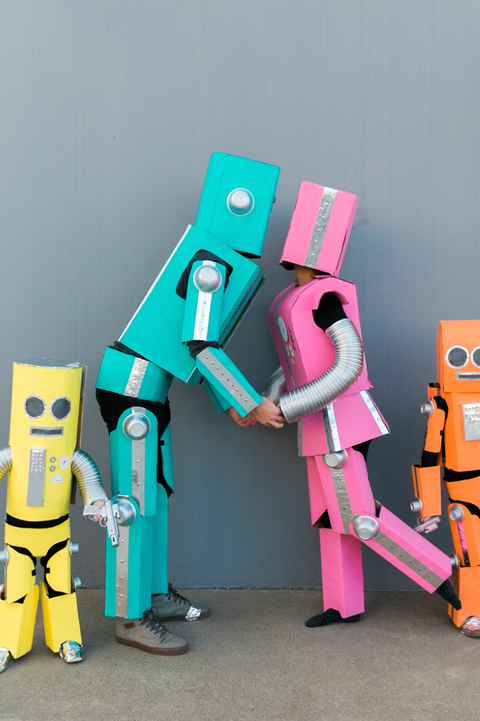 These fake mechanical costumes can be made using cardboard boxes and colored paint. DIYing these outfits is also a fun couples activity.
'Grease' Halloween Costume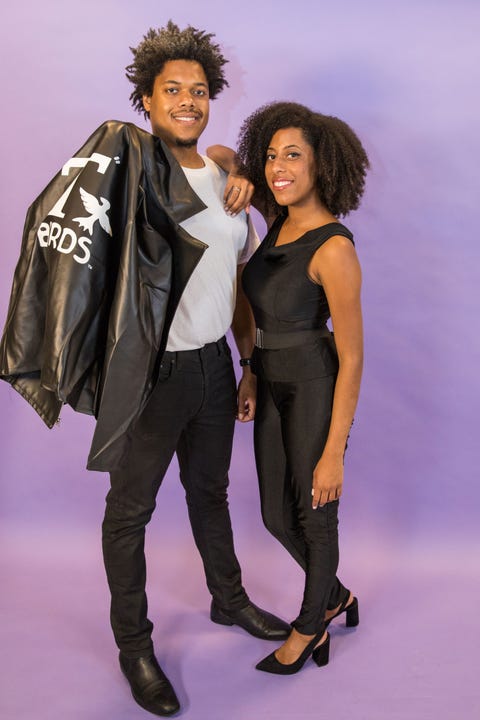 You already found the one that you want, and now it's time to dress them up in their T-Birds best. Show that you're hopelessly devoted to him (and his Grease obsession) in a matching black ensemble.
Carpool Karaoke Halloween Costume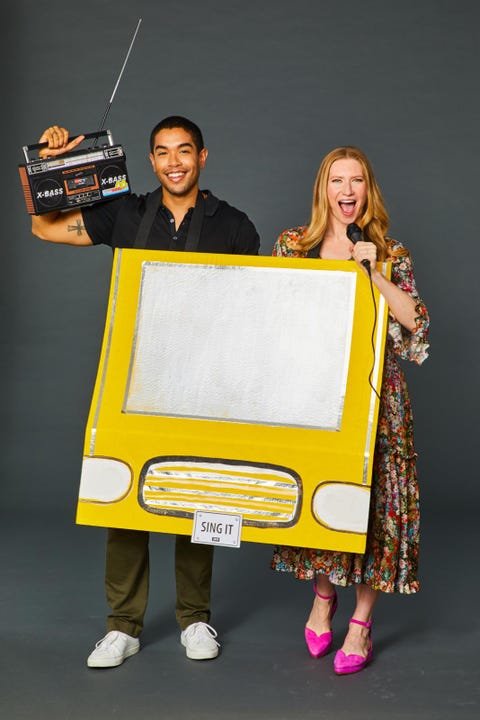 Put your karaoke skills to good use in this instant crowd-pleaser. Use paint and washi tape to transform a yellow presentation board into a taxi. Adhere velcro strips to the back, so you can strap it around your necks. Before you head to the party, make a playlist and get ready to sing!
Green with Envy Halloween Costume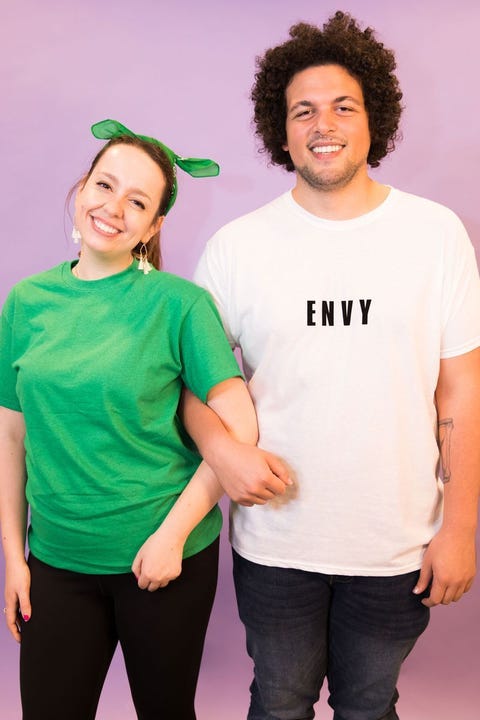 Jealousy doesn't have a place in your relationship, but this tongue-in-cheek costume certainly does. To make an envious pair, one of you should dress in head-to-toe green and the other should wear a t-shirt with the word "envy" written on the front.
Patti Mayonnaise and Doug Funnie Halloween Costume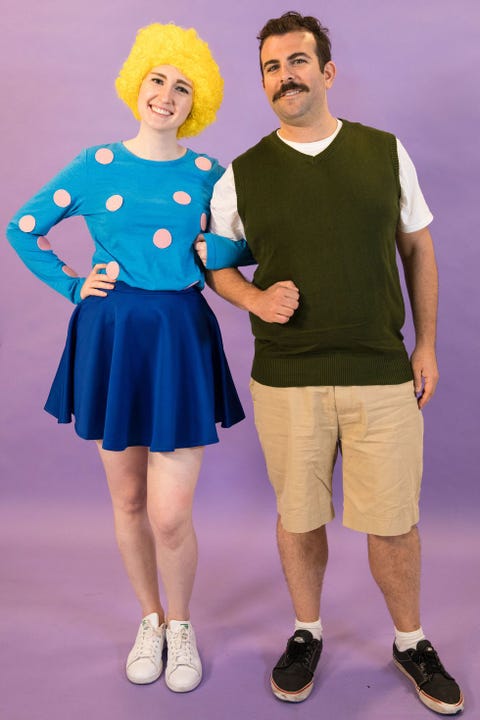 Their relationship never took a romantic turn on the show, but Halloween is a time to play pretend. Doug's costume is fairly easy to throw together, but Patti's requires some prep work: Attach felt polka dots to a sweatshirt and track down a bright yellow wig to resemble the cartoon.
Greek Gods Halloween Costume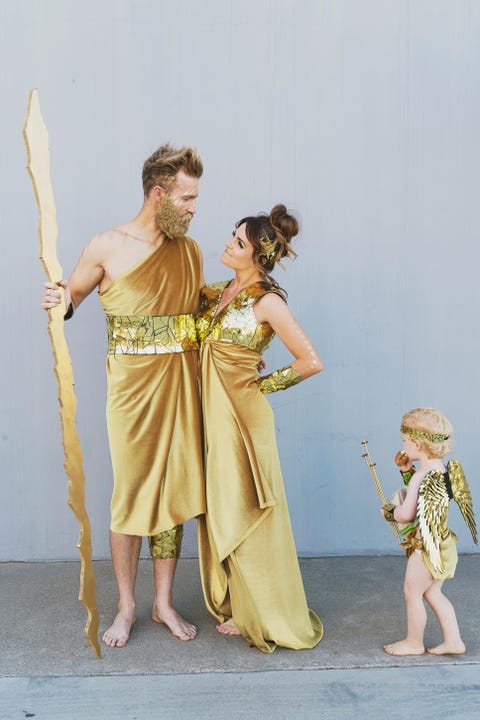 If you want to go with something more specific, you can dress as Aphrodite and he can be Hermes. It's fitting: Aphrodite is the ancient Greek goddess of love and beauty, after all.
Instagram Filter Halloween Costume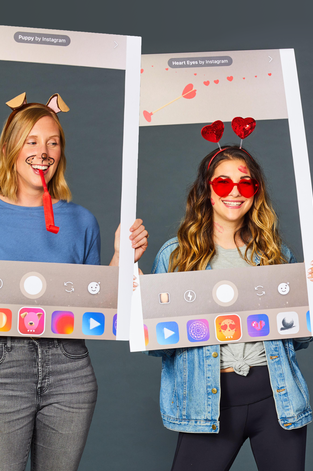 If your S.O. is always the one behind the camera (or watching you toggle between filters for hours on end), then they'll get a kick out of this idea. Pull up your Instagram stories to select a filter — you can each have your own or share. Then take a screenshot, print it out and cut a hole in the middle to fit your face. Use makeup and accessories to recreate the filter's effects, whether it's heart sunglasses, dog ears or gold face makeup.
Nintendo Switch Halloween Costume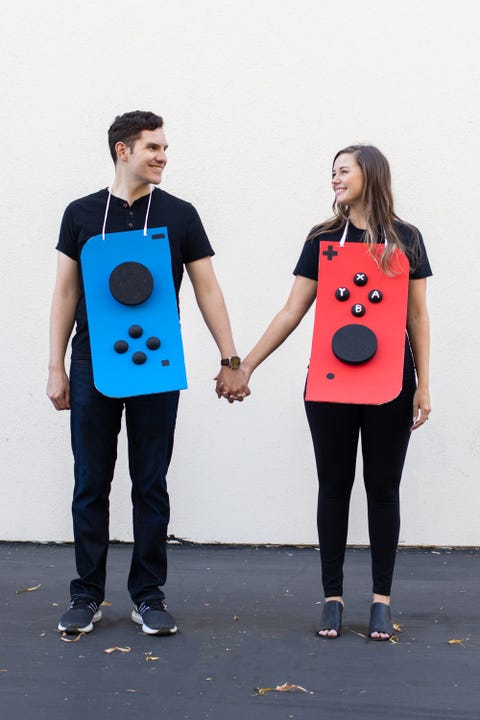 After months of determination and serious sleuthing skills, he finally tracked down a Nintendo Switch. Now that you've got a few Mario Kart date nights under your belt, it's only appropriate to dress as his one true love (yours too) this Halloween.
'Dirty Dancing' Halloween Costume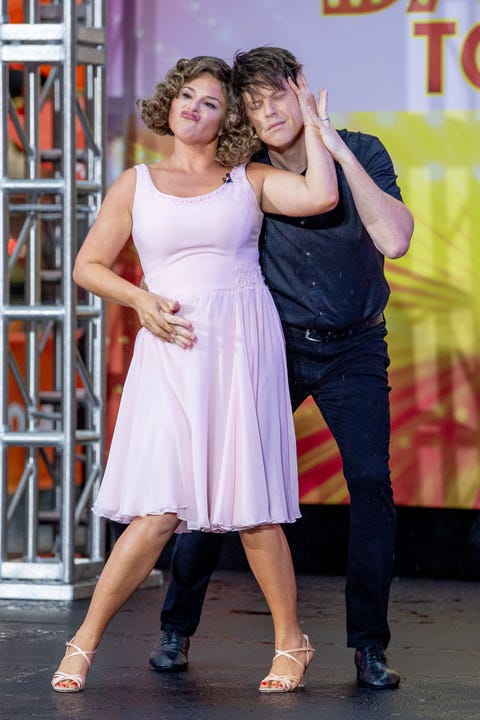 Everyone will clear the dance floor as soon as Johnny and Baby (you and your beau) walk in. Just practice the big lift beforehand to prevent any mishaps.
'Dirty Dancing' Halloween Costume (Option Two!)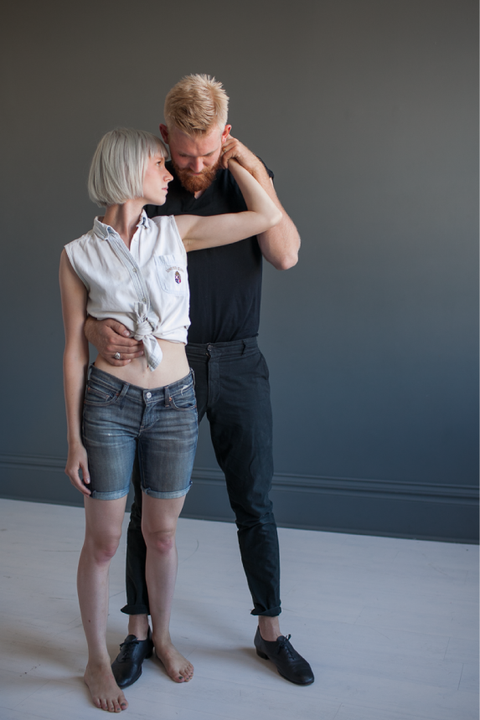 If you want the dressed-down version of Baby and Johnny, go with this casual (but equally iconic) look. You'll still want to practice your dance moves ahead of time, though.
'Grace and Frankie' Halloween Costume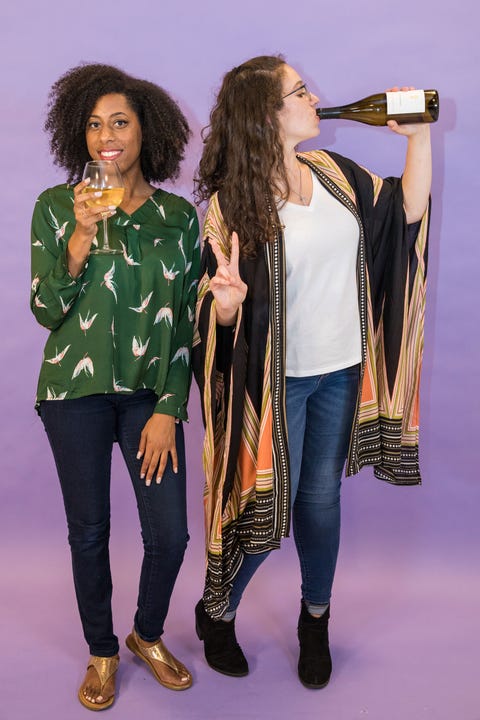 Netflix's own enemies-turned-pals will guarantee a good night, especially because they believe in drinking straight from the wine bottle. Now, you just have to settle on who's who.
'Top Gun' Halloween Costume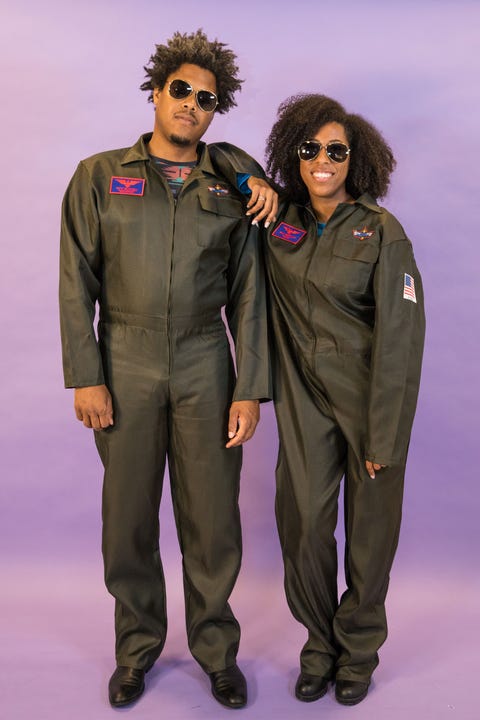 Here's your Halloween agenda: Put on your matching fighter pilot outfits, channel your inner Tom Cruise and Anthony Edwards, and get ready to take flight.
'Harry Potter' Halloween Costume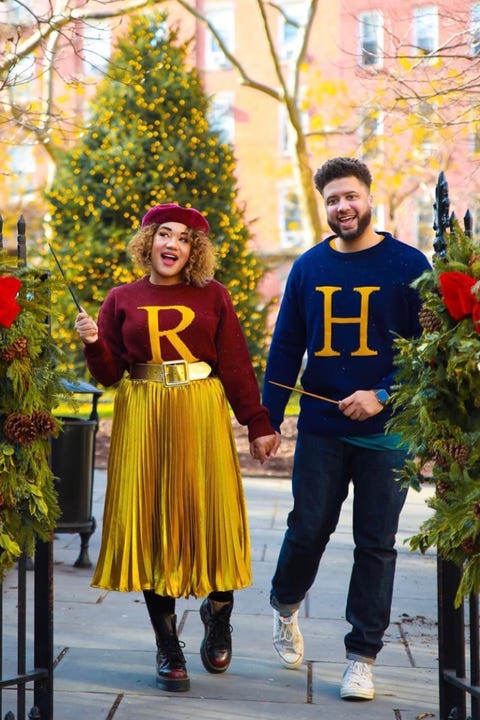 Harry and Ron have an unbreakable bond —just like you and your partner. Find sweaters with "R" and "H" on the front and then practice your wand skills for a magical night.
Bob Ross and Happy Little Tree Halloween Costume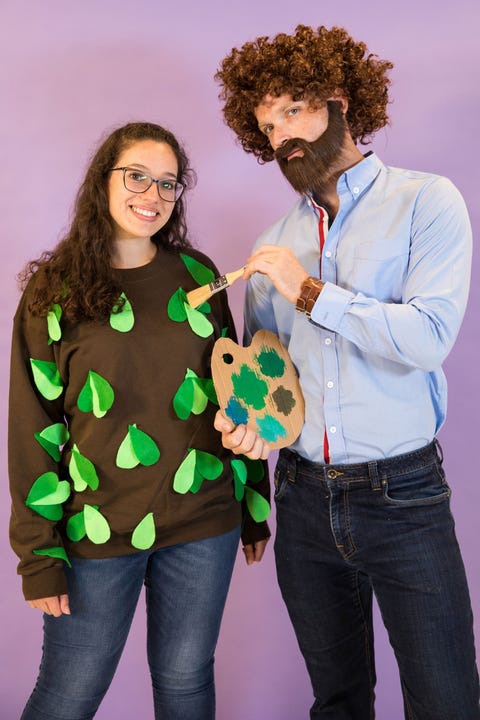 Talk a trip back to your childhood — or last night's Netflix binge — with this easy-to-DIY costume. It's a solid option if you're bouncing from party to party since it's comfortable enough to wear all day long.
'Men in Black' Halloween Costume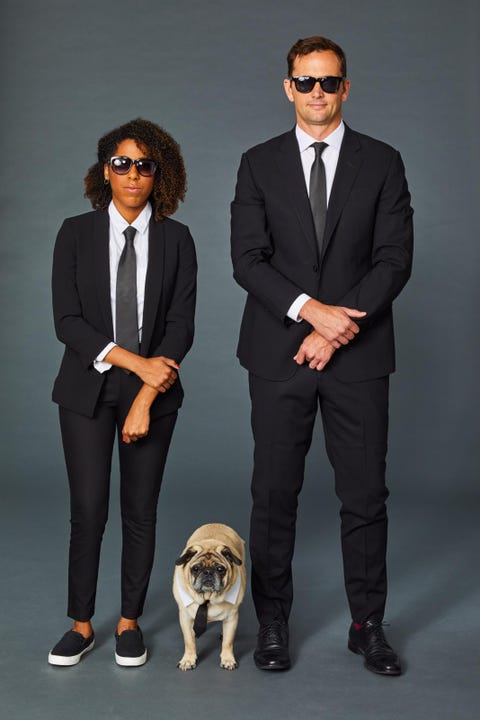 Proof that simple and sleek is the way to go: Scour your closet for matching black suits, ties and sunglasses. All the while, perfect your poker faces to really show the aliens who's boss.
Sweet Tooth Halloween Costume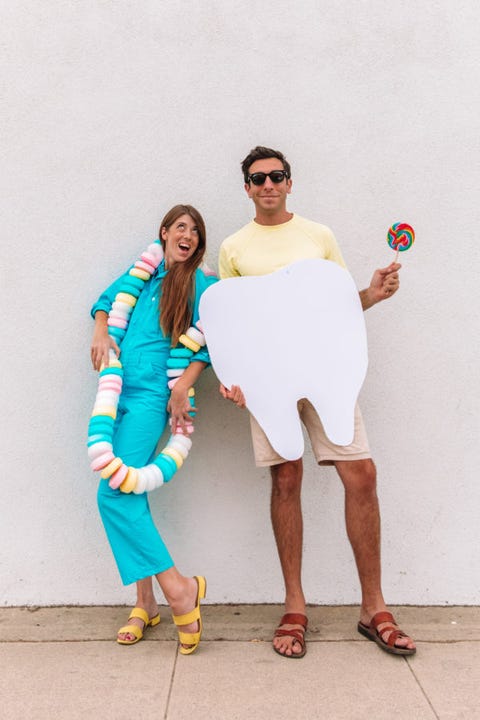 There's no doubt that you and your sweetheart are the perfect match — for starters, you love chocolate, baked goods and all things sugar. This costume just about sums it all up.
'Zenon' Halloween Costume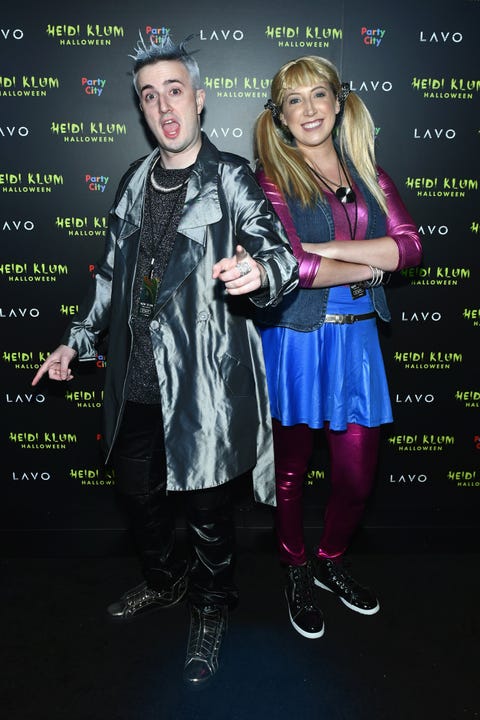 Celebrate Zenon's 20th anniversary by dressing up as the movie's most intergalactic pair: Proto Zoa and Zenon. To really look like a supernova girl, make sure to wear high pigtails along with your metallic outfit. He should spike his hair with hair gel to resemble Proto Zoa's unforgettable look.
50s Mouseketeers Halloween Costume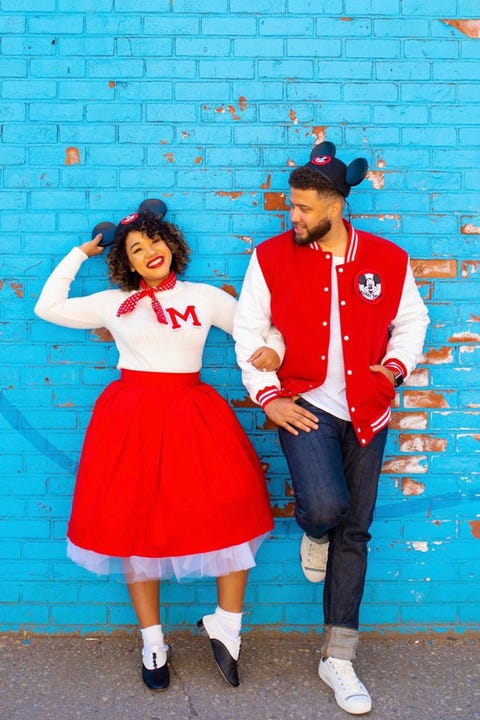 Swing right into the 50s with this adorable getup. You'll wear a petticoat skirt, he'll wear a vintage varsity jacket and you'll both wear your favorite pair of Mickey Mouse ears.
'Dragon Ball Z' and 'Naruto' Halloween Costume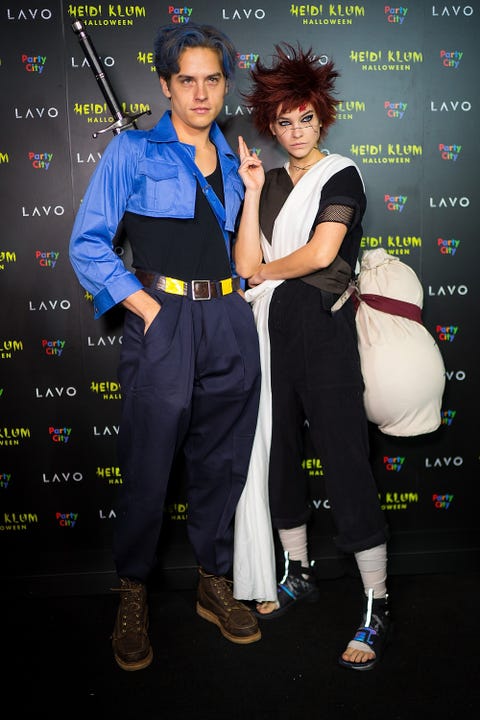 Not everyone will recognize Trunks and Gaara, but it will be extra-fun for the anime fans that do. Work on your sword skills ahead of time to really impress the crowd.
'The Shining' Halloween Costume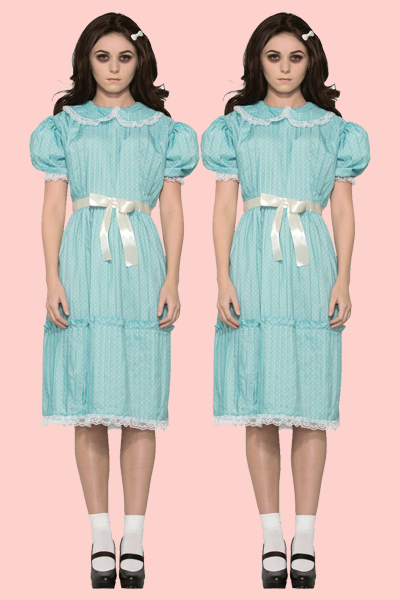 With one look, you may give everyone the creeps … but that's the point of wearing a scary costume on Halloween, isn't it?
'Ghostbusters' Halloween Costume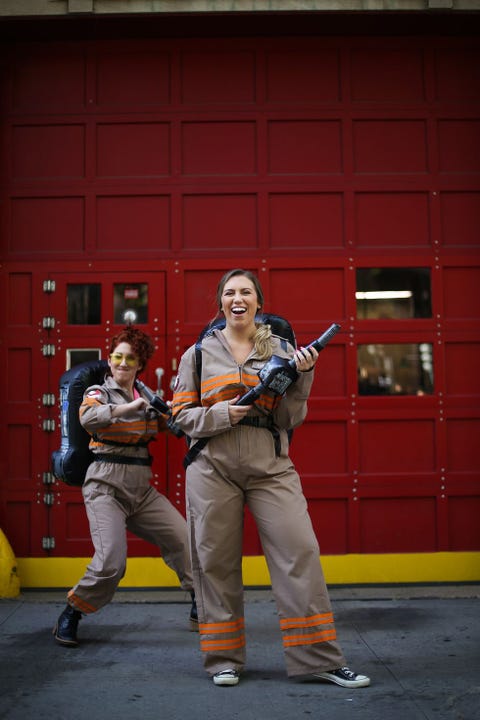 You two certainly aren't afraid of no ghosts —and this costume is proof. Throw on a khaki jumpsuit, lace up your sneakers and strap on a proton pack to really step into character.
'70s Halloween Costume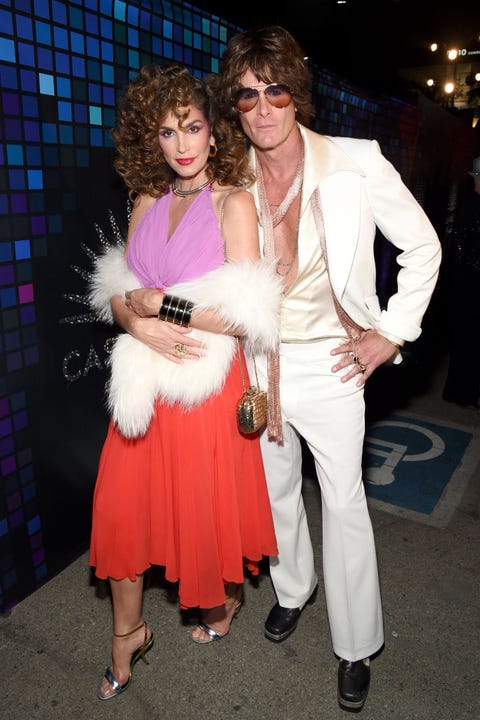 Forget flower power: Embrace disco fever with an ultra-glam look ´a la Cindy Crawford and Rande Gerber. A few must-haves: faux fur, blinged-out arm candy and lots (and lots) of hair.
Deadpool and Lady Deadpool Halloween Costume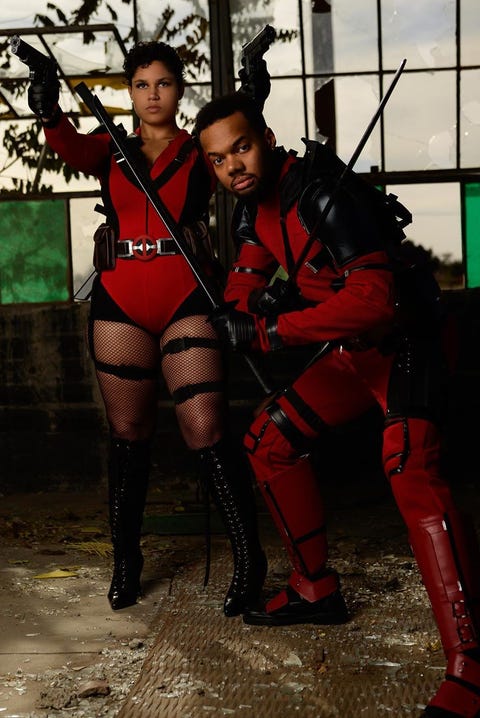 Lady Deadpool may be unknown to movie fans, but anyone who loves the comic books will know just how much of a boss she is. DIY or buy matching outfits and prepare to bring on the laughs.
'Beetlejuice' Halloween Costume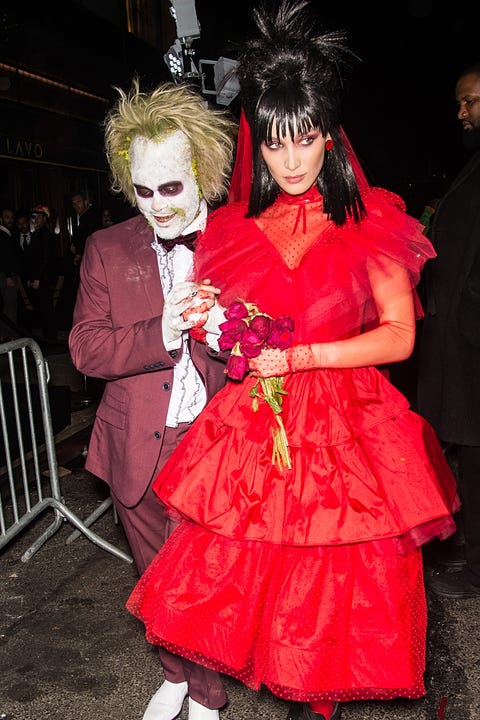 Even after their death, Beetlejuice and his bride still find a way to stir up trouble. Sounds like another couple you know (hint, hint), doesn't it?
Mary Poppins and Bert Halloween Costume
Chim, chim, cher-ee! Get your whole neighborhood humming along to "Supercalifragilisticexpialidocious" with this movie-ready look, magical Mary Poppins bag and all.
Katy Perry and Left Shark Halloween Costume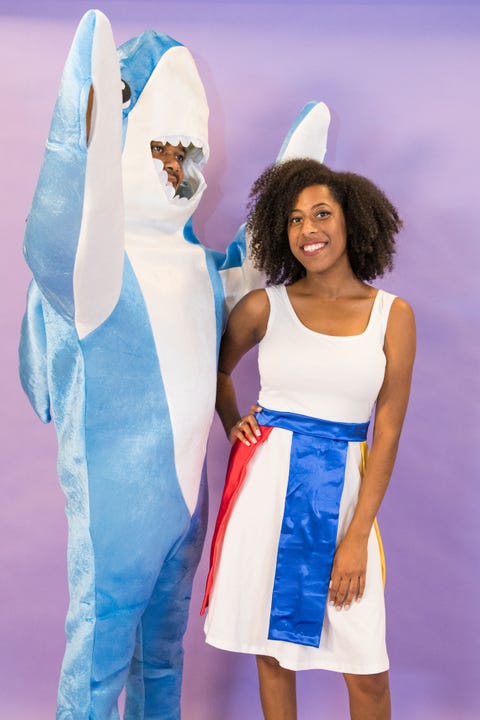 Years later, the 2015 Super Bowl's most memorable moment still lives on. One of you can sport a shark costume, and the other can mimic Katy Perry's onstage outfit with a skirt made out of red, yellow and blue satin fabric.
Chip and Joanna Gaines Halloween Costume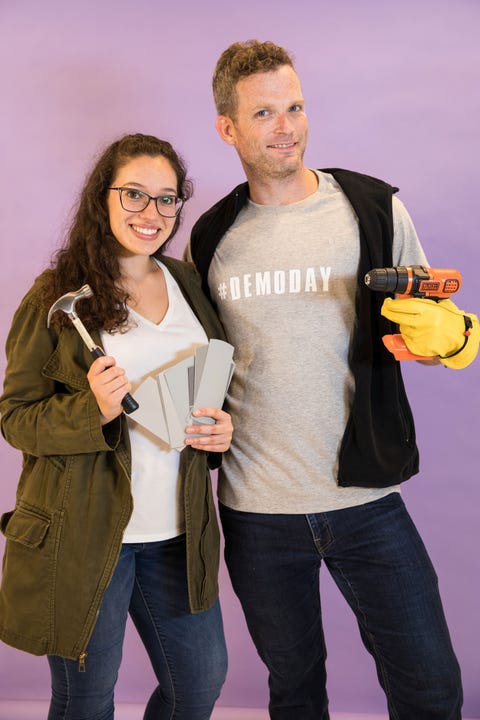 Round up a hammer, drill and paint chips to show that you're ready for Demo Day as Fixer Upper's famous couple. Next stop: Waco!
Farmers Market Halloween Costume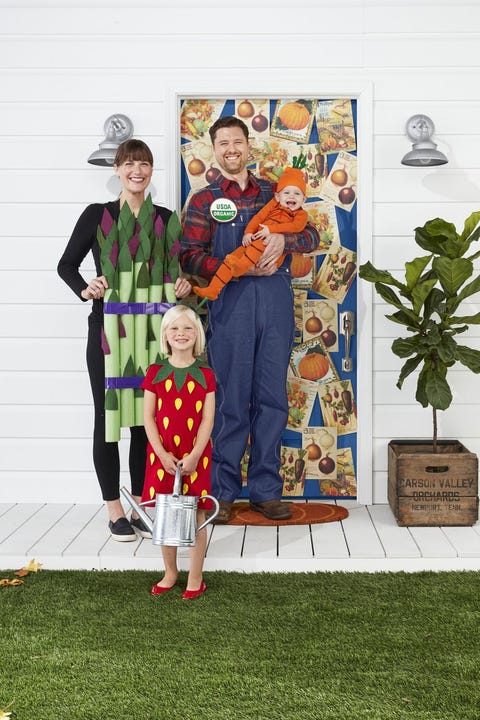 No matter if you have some fresh veggies of your own, you and your partner can dress up as an adorable Farmers Market duo. One of you can play the farmer and the other can DIY a fruit or veggie costume, anything from a strawberry to asparagus.
UFO and Alien Halloween Costume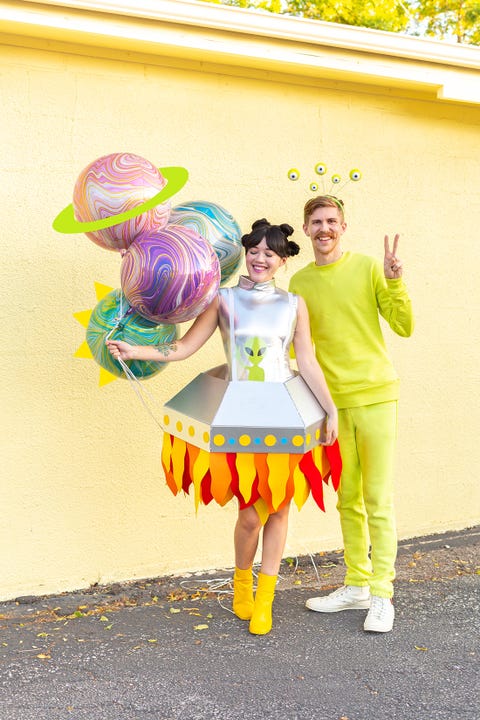 Since your partner captured (er, abducted) your heart and all, you might as well go for this alien-themed Halloween costume. Bring on the space buns and googly eyes.
Rock Legends Halloween Costume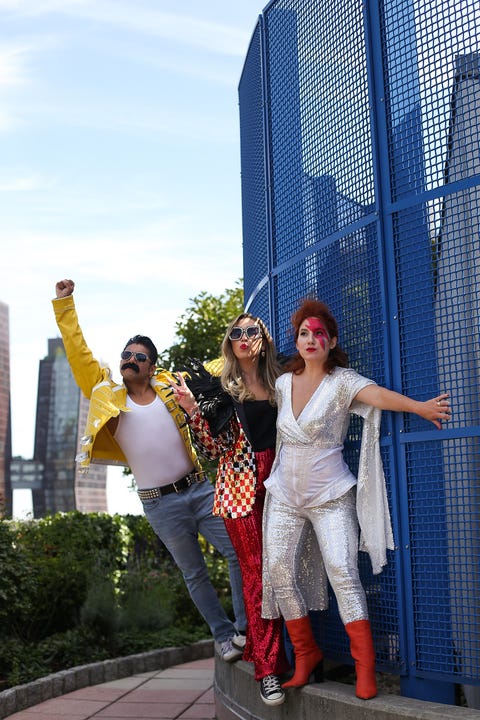 Now, everyone else can enjoy your late-night karaoke sessions. Dress up as your favorite rock or pop legends — David Bowie, Elton John, Freddie Mercury, to name a few — for a music-filled night.
'Stranger Things' Halloween Costume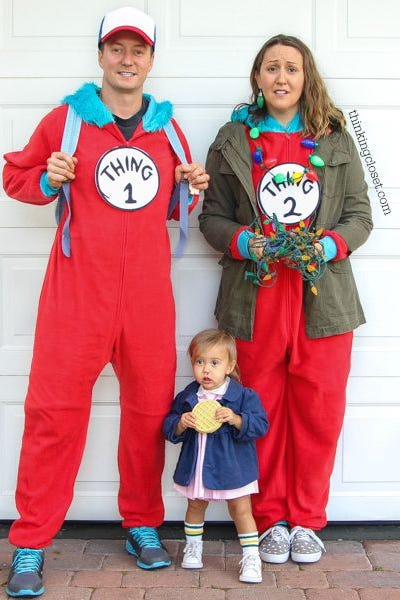 If you can't get enough of Stranger Things (we get it), couple up as a Thing 1 and Thing 2 for a punny costume. Accessorize with colorful string lights and backpacks to look like the real deal.
Chucky and Bride Halloween Costume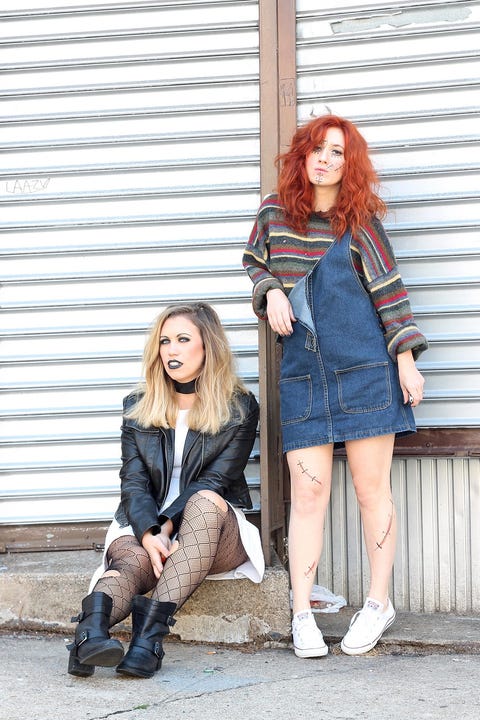 Your relationship may be nowhere near as complicated as Chucky and his bride (phew!), but that doesn't mean you can't play the part on Halloween by throwing together this easy DIY.
Operation Halloween Costume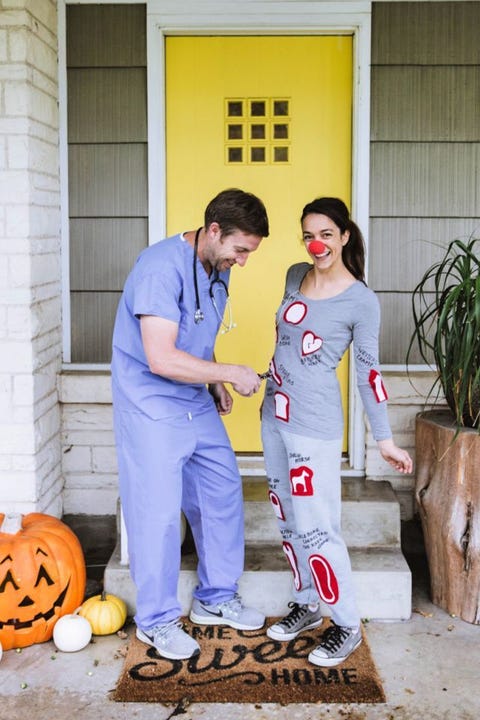 It's time to play doctor: Have your partner dress up as a nurse or surgeon, and then cover an old sweatsuit with felt pieces. Just make sure your other half has a pair of pliers handy, so they can get to work.
Jack and Rebecca from 'This Is Us' Halloween Costume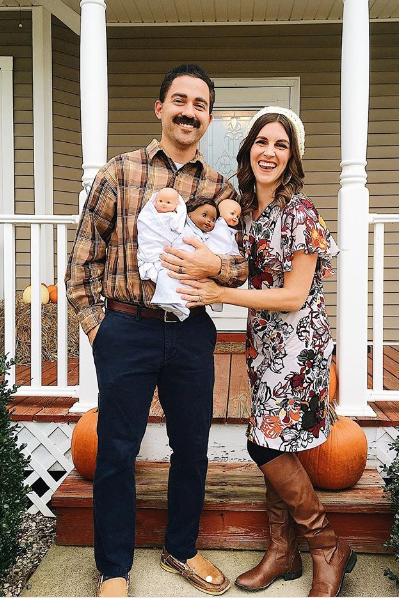 Your partner is proof that men like Jack Pearson really do exist. So, let everyone at your Halloween party know how lucky you are by using what's already in your closets (a flannel, floral dress, and riding boots) to transform into TV's most-beloved couples.
'Up' Halloween Costume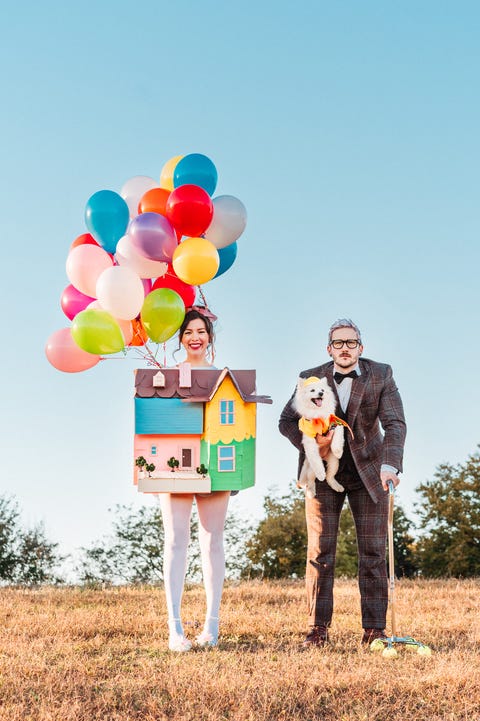 Get a glimpse into your future by convincing your partner to dress up as Russell, the sweet grandpa from Up. For your look, transform a cardboard box into a colorful house, balloons and all, to resemble Carl's.
Ron Swanson and Breakfast Halloween Costume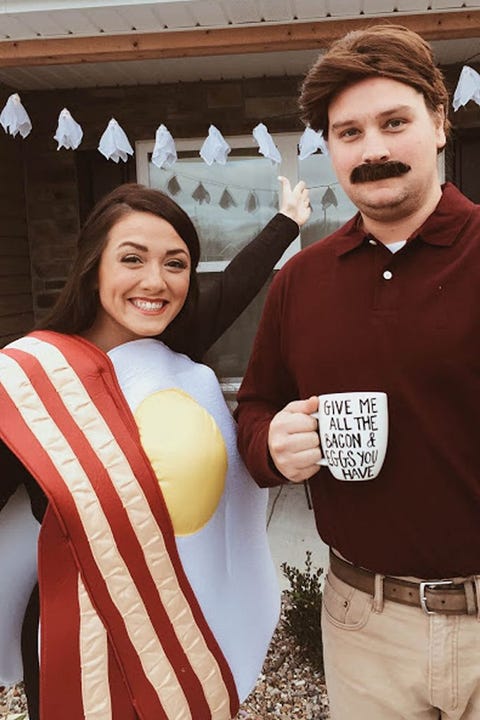 Nothing gets in the way of Parks and Recreation character's Ron Swanson and his love of a hearty breakfast with bacon and eggs. Not even Halloween.
Clark Kent and Lois Lane Halloween Costume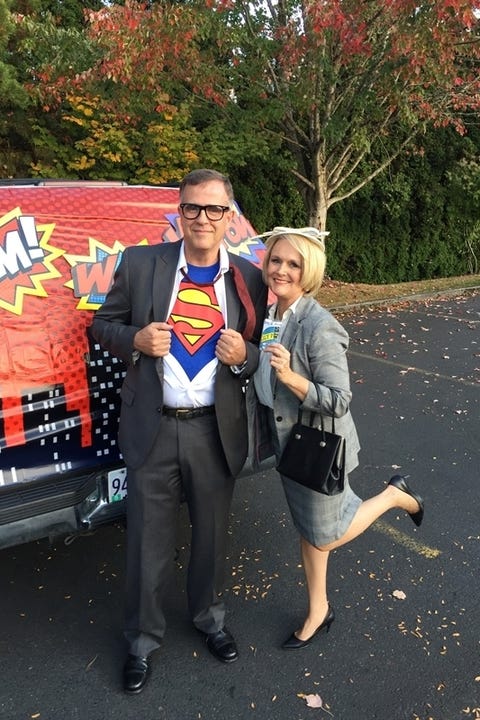 Since your love story is one for the (comic) books, opt for this classic costume. Clark Kent will even get a laugh each time he unveils his superhero costume underneath his party disguise.
Pantone Color Combo Halloween Costume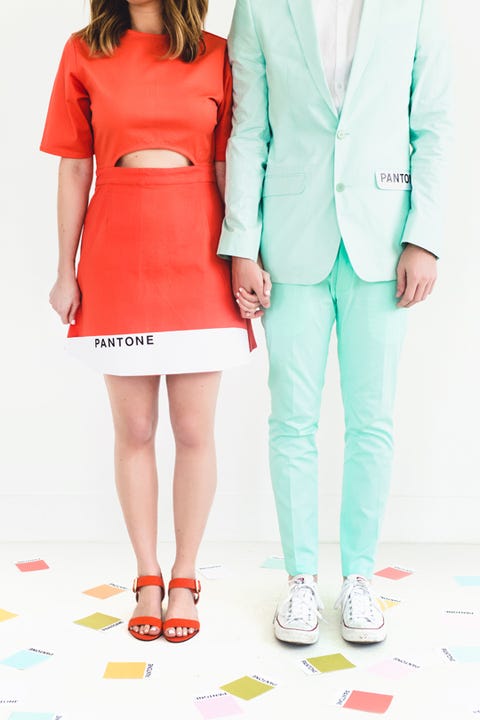 Halloween is the perfect excuse to bust out your newest dress or suit. Once you both put on your most colorful clothes, call it the ultimate Pantone color combo. Trust us, nobody will check to see if it's legit.
Arnold and Helga Halloween Costume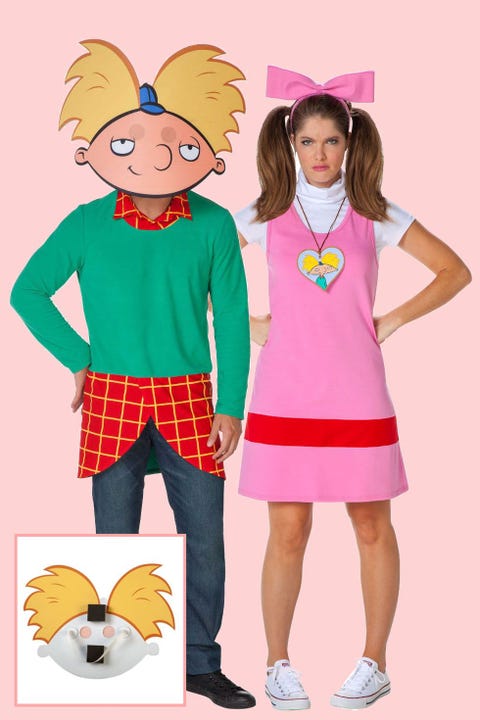 Hey '90s kids! If you and your crush have a complicated relationship, then these cartoon frenemies make the perfect costume.
Pencil and Notebook Halloween Costume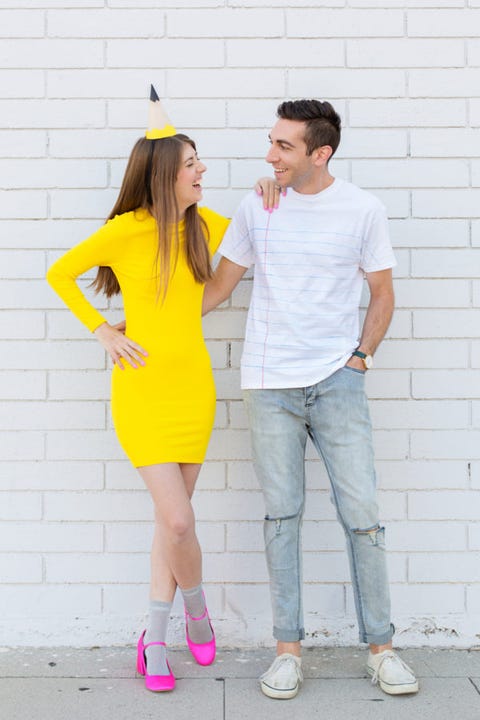 Maybe you met in high school. Maybe you're both teachers. Whatever the reason, this quick DIY is on point (pun intended).
Couple Holding Hands Emoji Halloween Costume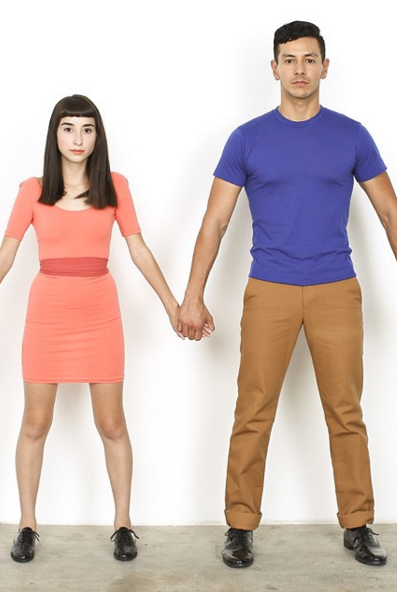 A pink dress, blue shirt and tan pants are all you need to complete this simple and sweet emoji costume. Don't worry, you don't have to hold hands all night long (unless you want to, of course).
"The Dress" Halloween Costume
The epic optical battle continues years after the initial confusion. Pick your side, DIY the appropriate dress and prepare for a very divided party.
Gomez and Morticia Addams Halloween Costume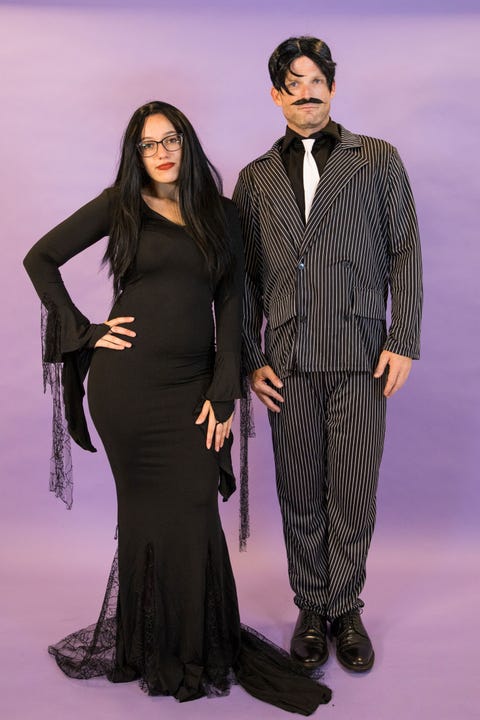 Be cute and creepy at the same time by dressing up as the Addams Duo — one you wears a sexy black dress, while the other wears a pinstripe suit.
Joyce Byers and Jim Hopper Halloween Costume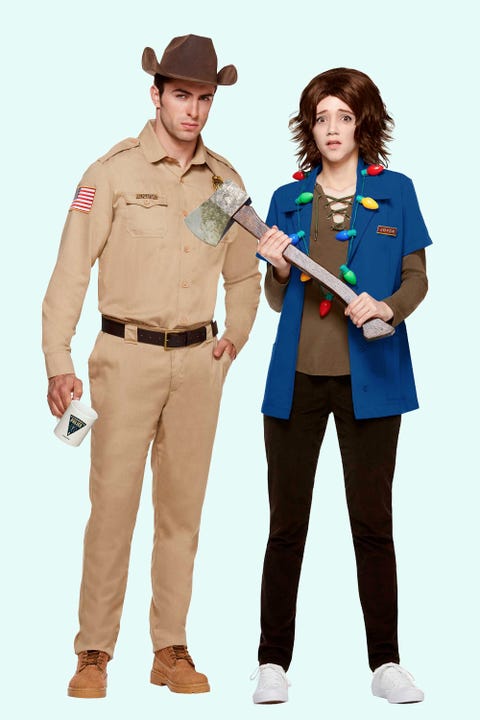 Last year you dressed as Eleven and Mike. For 2021, ship your other favorite Stranger Things couple by dressing up as Joyce and Jim.
Party Animal Halloween Costume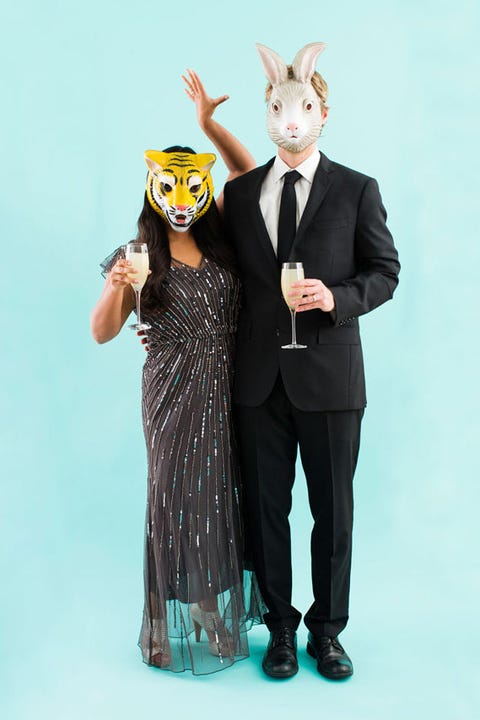 File this under "easiest Halloween costumes to put together at the last minute." Just pick up a pair of animal masks and put on your party best.
Old Married Couple Halloween Costume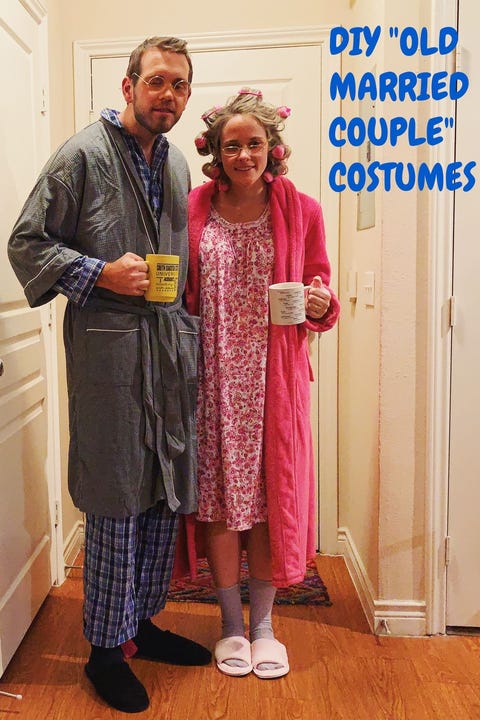 If your idea of having a good time means walking into a party wearing your nighttime uniform, then this costume is your best bet. It won't even feel like you're dressing up…
Eclipse Halloween Costume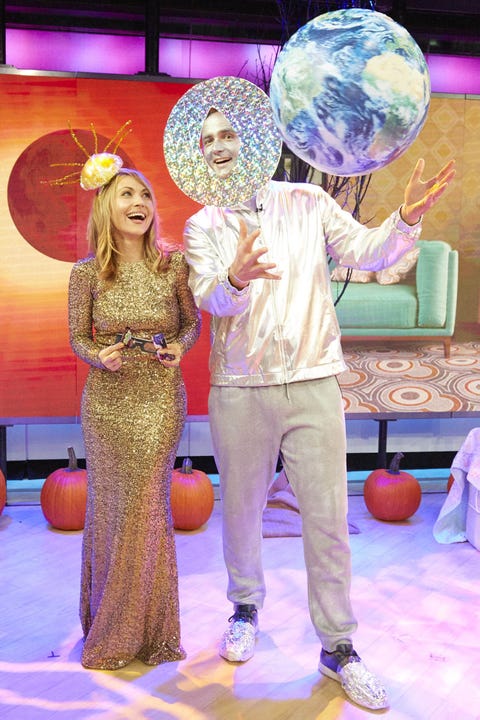 Glam it up in this out-of-this-world costume idea. She'll wear head-to-toe gold to portray the sun and he'll dress in silver to be the moon, occasionally crossing in front of her for full effect.
Gaston and Belle Halloween Costume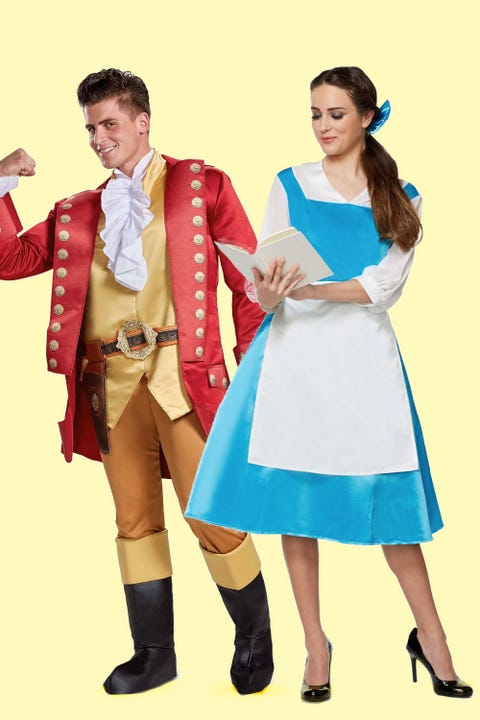 No one's slick as Gaston, no one's quick as Gaston, no one wins Halloween like Gaston! Yes, he's the villain, but he also has the catchiest song in Beauty and the Beast. (Sorry, Belle.)
Louise and Tina Belcher Halloween Costume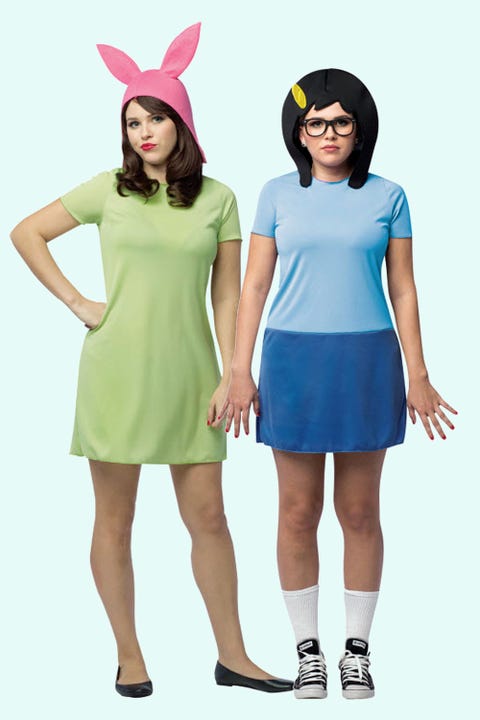 Forget the show's namesake for a moment. Louise and Tina are the real stars of Bob's Burgers. This costume is proof.
Elastigirl and Mr. Incredible Halloween Costume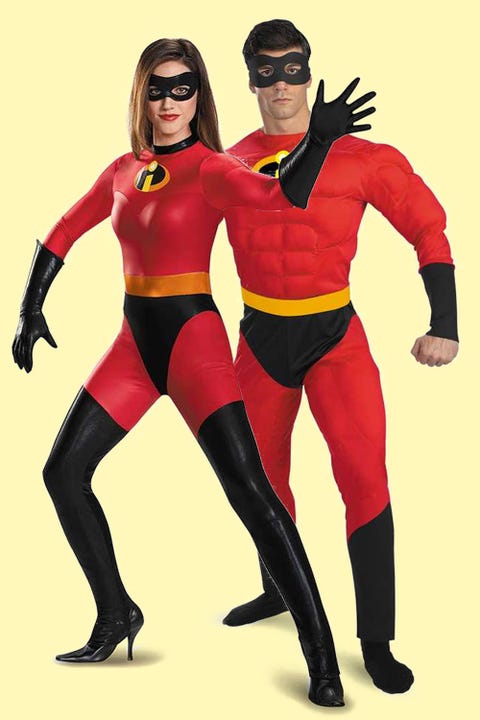 Dress up as the most lovable superhero couple if only for the opportunity to legitimately ask, "Honey, where is my super suit?"
Robin Hood and Maid Marian Halloween Costume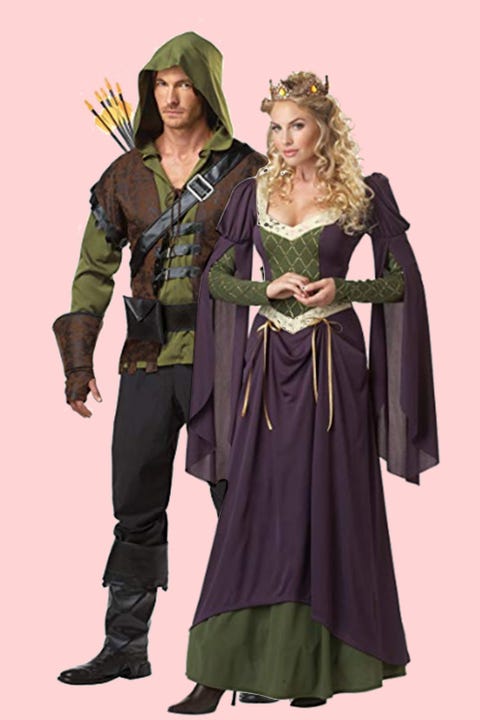 This famous pair is immediately recognizable while trick-or-treating, especially if Robin Hood carries around a toy bow and arrow.
Waldo and Wenda Halloween Costume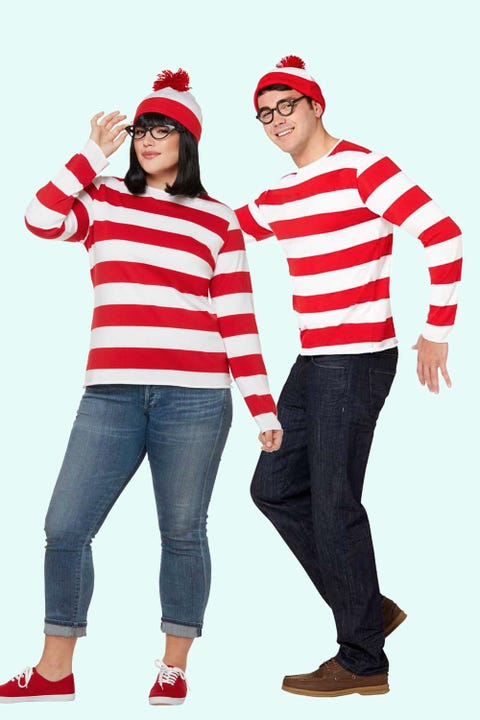 Recruit two of your friends to dress up as Odlaw and Wizard Whitebeard and you'll have everyone at the party looking for you (including your S.O.)
Oreo Halloween Costume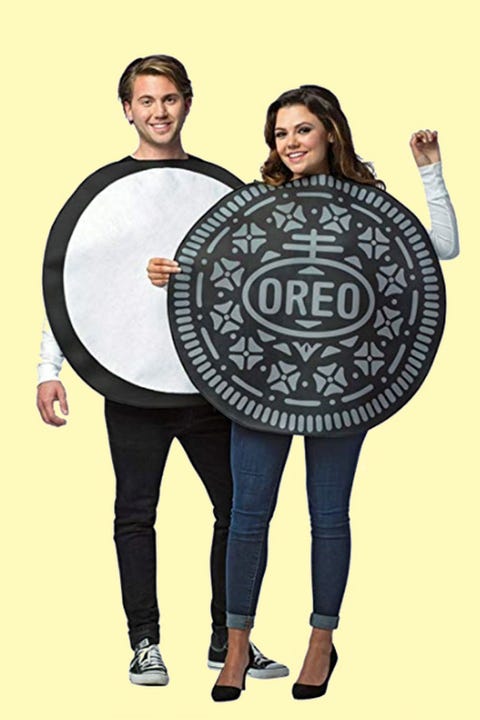 Give it up for milk's favorite cookie! Sandwiched together, you and your partner instantly become the double-stuffed variety.
Crayola Crayon Halloween Costume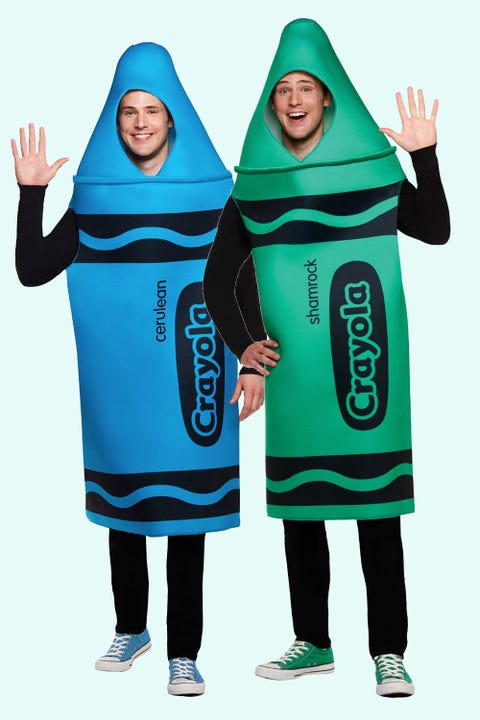 Color us impressed with this nostalgic idea. Dress your baby as "Tickle Me Pink" and you'll cover even more of the rainbow.
'Star Trek' Halloween Costume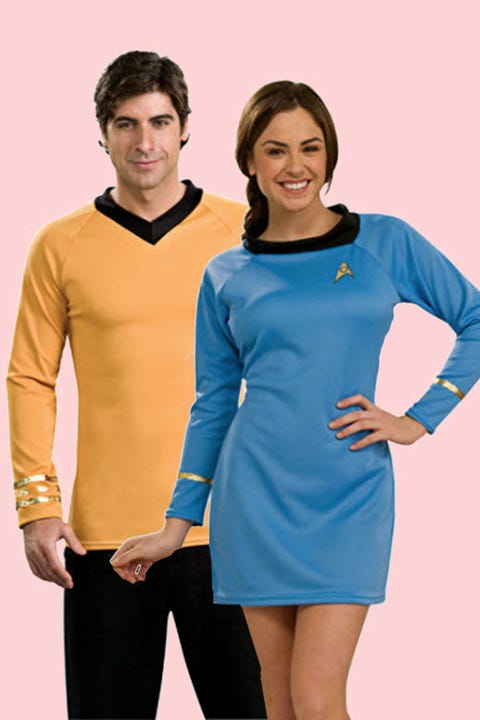 Beam us up, Scotty. Join the Starfleet with a pair of iconic sci-fi costumes worthy of a spot on the Enterprise.
Dancing Duo Emoji Halloween Costume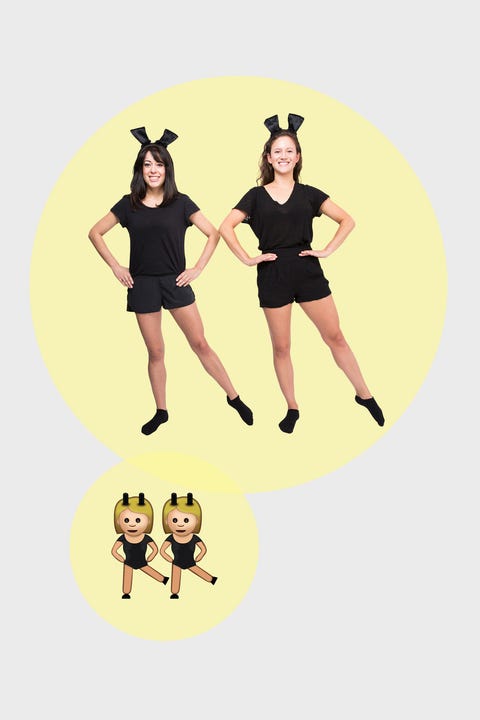 For a duo that's super in sync, these matching dancer costumes are a sure hit. Before you make your party debut, practice that pointed left foot and you'll be ready for your Instagram-worthy shot.
French Kiss Halloween Costume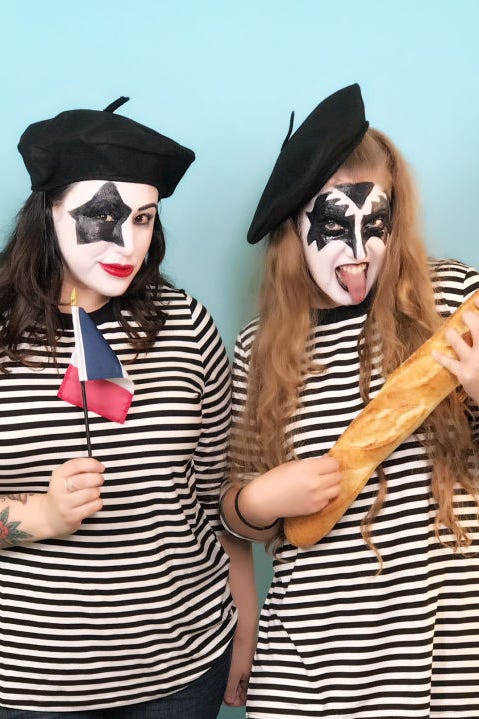 The couple who puns together has more fun together … right? You don't need a whole band to make this costume work — just the two most recognizable Kiss makeup looks and some French-inspired accessories.
Pizza Slice and Delivery Boy Halloween Costume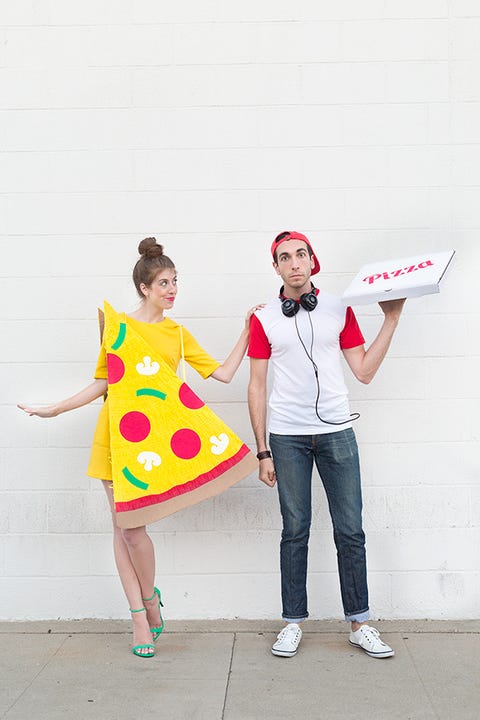 If you love each other more than cheese, then this is the couples costume for you. (Plus one person gets to stay comfy in a T-shirt and jeans — win!)
David S. Pumpkins and Skeleton Halloween Costume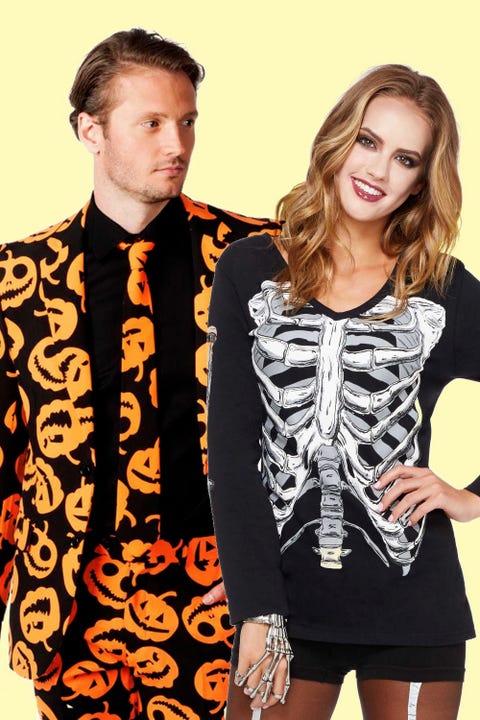 Saturday Night Live fans will instantly recognize this homage to the genius Tom Hanks skit, but if anyone asks who you are you can simply reply, "Any questions?"
Toy Soldier Halloween Costume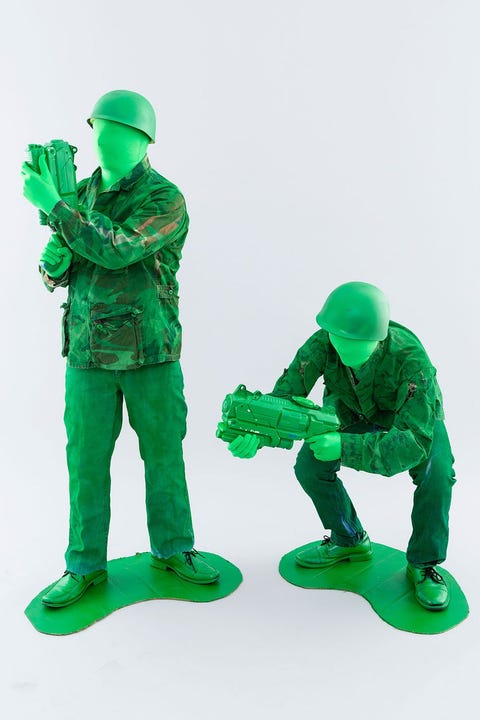 Green spray paint turns thrift store duds into the (army) squad goals. Leave no man behind!
Kissing Sailor and Nurse Halloween Costume
For old souls, this '40s-inspired nurse-and-sailor costume is a match made in heaven.
Magician and Rabbit Halloween Costume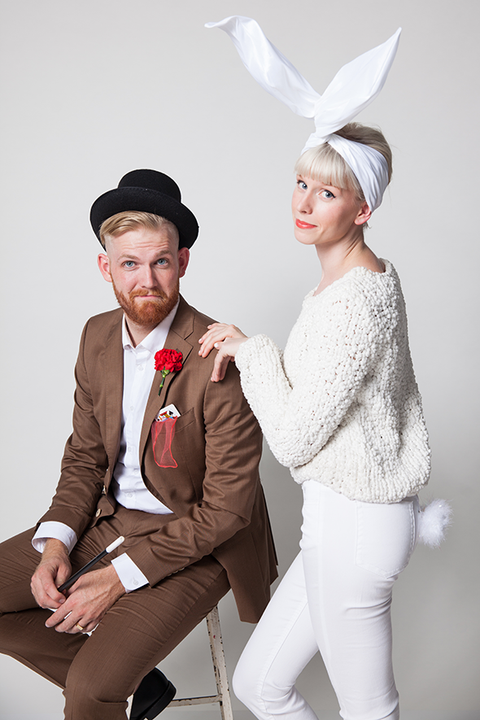 For those who want to add a little magic to their Halloween look, try this fun magician and bunny rabbit costume. You can work with clothing you already have, and if you're not into DIYing the ears, opt for ready-made options on Amazon.
Zombie Halloween Costume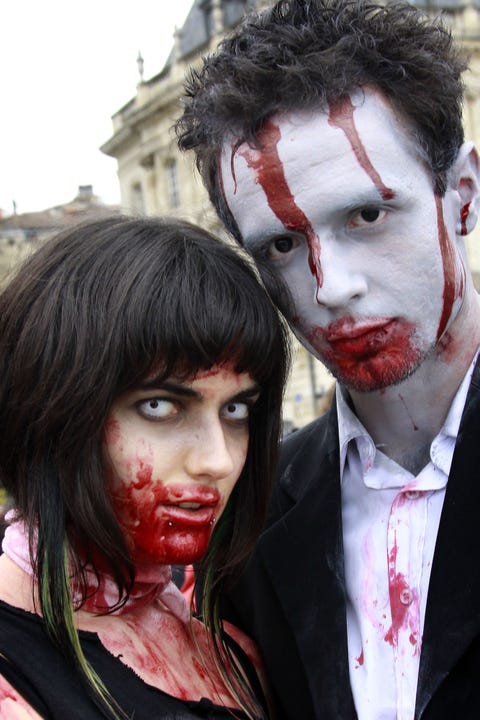 Turn yourselves into The Walking Dead extras with a little makeup and lots of fake blood (which you can buy or make at home). Then go the extra mile with colored contacts.
Skeleton Bride and Groom Halloween Costume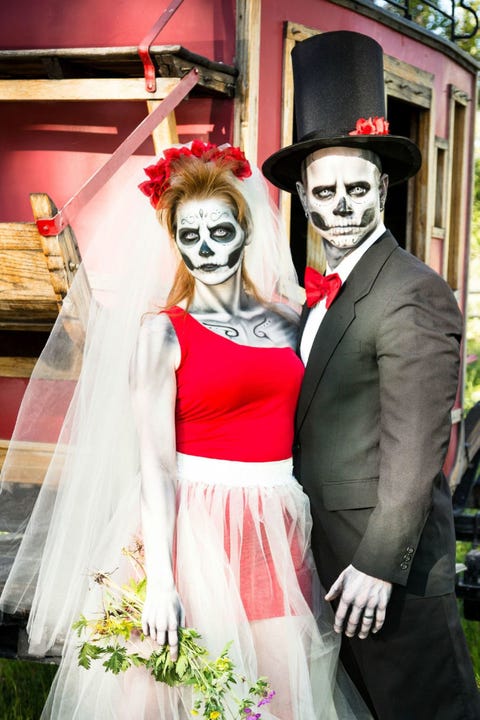 If you don't want to dress up as a typical bride and groom, you can pair skeleton makeup with any formal attire to look spooky on Halloween.
Hitchcock Film Halloween Costume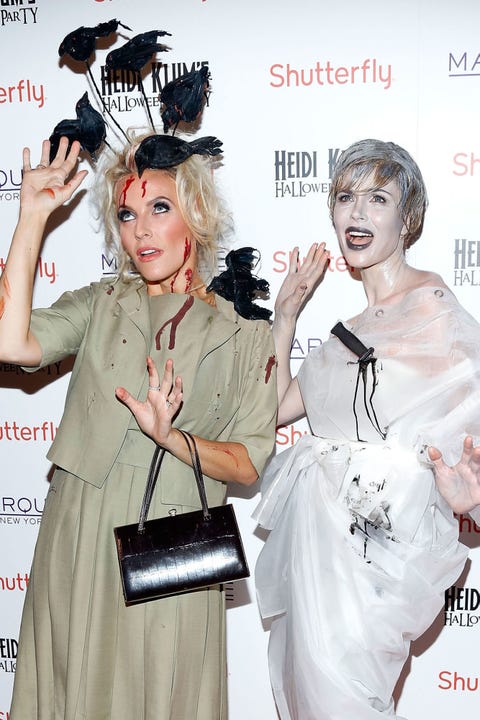 If you and your partner are huge film nerds, go for a theme rather than a literal couple. Love horror movies? Copy designers Georgina Chapman and Keren Craig's brilliant The Birds and Psycho costumes.
Alice and the Mad Hatter Halloween Costume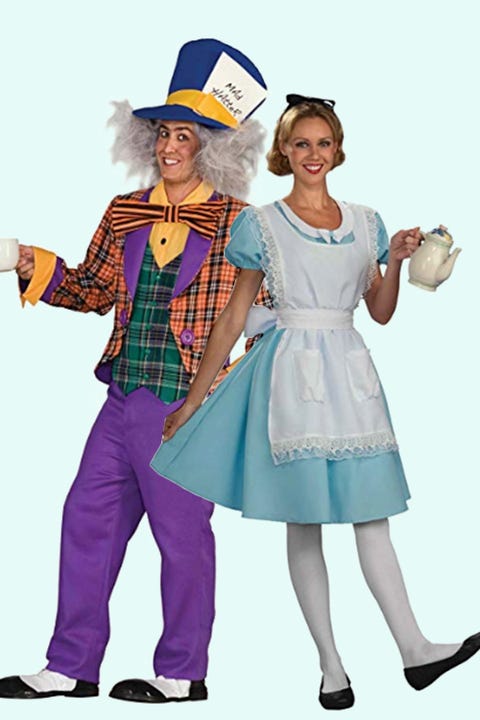 Although they aren't a couple in the story (thank goodness), these two Alice in Wonderlandcharacters make a fun and instantly recognizable pair.
Lando and Chewbacca Halloween Costume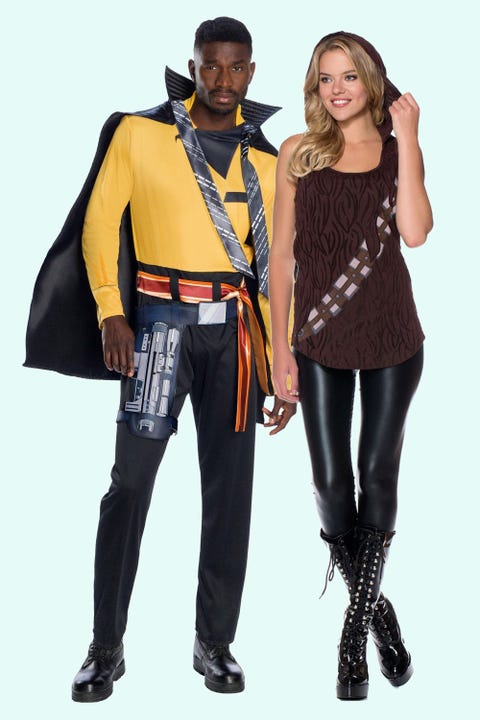 The movie was called Solo: A Star Wars Story but most fans can agree that the title should have been Lando: A Donald Glover Story. And who doesn't love Chewie?! Start practicing your Shyriiwook. (That's the Wookiee language, for you space opera newbies.)