Shop
Our feminist merch
has high quality and has unique designs. Every peace has deep meaning behind, we are committed to spread awareness for feminism with our feminist merch. We believe in quality over quantity so we are always trying to improve quality and always will deliver with best quality we can.
The designs of our feminist merch,
the colours, the pieces is all designed by me. All the sayings is something I have said in the past and think every feminist can relate to this one.

Our goal is with our feminist merch
live in the world where there is no hate towards another race, people with different sexuality or even gender. We are all humans and we are all enough. We want to bring people to awareness and to make them realise how fucked up our system is. If any of our designs is something you stand for or want to learn more about it, we welcome you to join our community and buy one if you like.
With wearing our feminist merch you are showing the world what you stand for and what you are fighting for. You will empower and inspire others to do so as well.
We are feminist. We deeply believe in the need of equal rights and opportunities for men and women. And we know that is not a reality. YET. We are also committed in doing our part to work towards that real equality.
We know that
all feminists have that in common. Some of us are angry, some of us are optimistic, some of us are focus in the big international problems, some of us have also declared war to the micro- misognysims we live every day. Some of us are women and some of us are not. But we are in this together.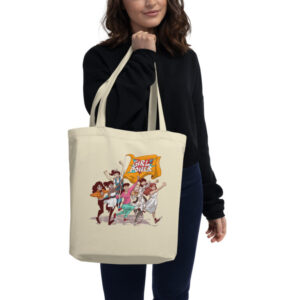 We don't want
this space to be a place to grant membership to a very exclusive and pure club, there is no exam and we are not here to tell you which kind of feminist you need to be. What we DO want to be is the brand that help you through your journey, who gives you a community, who challenges your beliefs and invite you to think further or differently, we want to encourage you to start conversations, to educate others, to understand more and action it, to make the most of your feminism so you have more impact, we want you to feel part of something bigger than yourself but to do it in your unique way. We want to help feminism to change the world, is that too much to ask for?
Also, and from the beginning we wanted to be ethical and proud of it, please look at our Ethical Policy to find out more about our products.
We want this space to be built within all of us, so tell us more. What else do you want? What else do you need to make your fight a better one? We are always happy to hear from you: nakedlydressed@gmail.com
Make sure go check out our Shop here
Make sure to check out our Blog here
Follow us on Social Media
Showing 1–12 of 74 results